Houghton Mifflin Harcourt, April 2018For more than 30 years as a neuroscientist, I (B.L.) have studied mental illness, in particular schizophrenia, a devastating disease that often makes it difficult for patients to distinguish between what is real and what is not. So it was with some irony that, three years ago, I myself ended up losing my mind, losing touch with what was happening around me. In the long run, I have come to see that terrifying journey, which I detail in my book, The Neuroscientist Who Lost Her Mind, as a gift, both personally and professionally.
In January 2015, two years after I became director of the Human Brain Collection Core at the National Institute of Mental Health (NIMH), I was diagnosed with brain metastatic melanoma and given four to seven months to live. But as an athlete and a breast cancer survivor, I had...
Throughout the trial, I continued to work full-time at my office in Bethesda, Maryland, putting in long days overseeing my large staff, reviewing scientific articles, and managing the surging demand from researchers across the country to use our brain tissue samples. But unbeknownst to me or anyone else, a full-scale war had erupted inside my brain. Even as the immunotherapy attacked the tumors that my doctors had irradiated, many new tumors were growing. My brain had become swollen and inflamed, and my frontal lobe function deteriorated rapidly. Soon my personality began to change.
At work, I found the minor shortcomings of my colleagues irritating. Instead of letting small things slide, as I normally would, I began to criticize the people I worked with frequently, just as I was doing at home with my husband and children. I became increasingly angry and suspicious of my family and my colleagues, certain that they were plotting against me. I began to struggle with reading and tasks that required sustained attention. I behaved in ways that were out of character, sending emails to my colleagues in all caps, the electronic version of shouting, and dispatching an odd, misspelled email to the organizers of a professional conference. One day after work, I couldn't find my car even though I parked it in the same spot every day, and I got lost going home. Increasingly, I was losing my memory—and my grip on reality.
Given what was happening in my brain, it's remarkable that I was functional at all. I soon learned that there were 15 new tumors in my brain as well as dramatic swelling and inflammation. Against all odds, I still believed that I would survive. After months of additional treatment, including more radiation and targeted therapy with drugs directly attacking melanoma cells, I did survive.
As the swelling decreased, my mind began to return. I started to remember some of the bizarre incidents and my out-of-character behavior, and to recognize what my family had been through. Despite all my years of research, it is my own suffering through that odd journey that truly taught me how the brain works—and how profoundly frightening it is when it stops working.
I am enormously grateful for the support of my colleagues at the NIMH, who believed in me and my recovery. I feel more deeply than ever the urgency of the work we are doing to find cures for mental illness. After enormous attention to and resources for cancer research, we have witnessed dramatic breakthroughs, which helped save my life. But the resources for research on mental illness lag far behind those devoted to other conditions. There is still so much we don't understand about the brain, and so few new drugs or other treatments to care for it. Armed with my new understanding of how it feels to go insane, I'm more focused than ever on helping to find cures.

Barbara Lipska is the director of the Human Brain Collection Core at the National Institute of Mental Health. Elaine McArdle is an award-winning journalist and coauthor of The Migraine Brain (Free Press, 2008). Read an excerpt of The Neuroscientist Who Lost Her Mind at the-scientist.com.
Interested in reading more?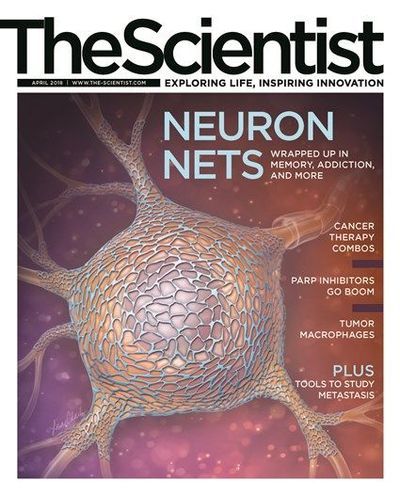 Become a Member of
Receive full access to digital editions of The Scientist, as well as TS Digest, feature stories, more than 35 years of archives, and much more!