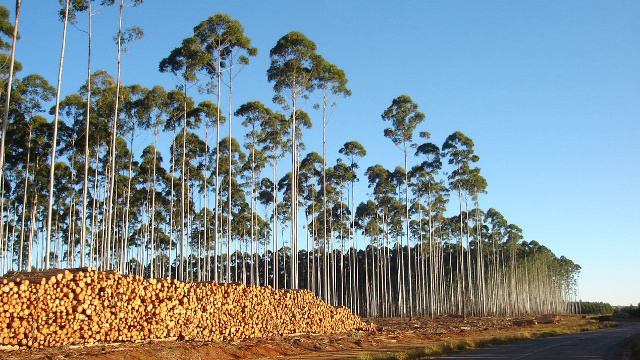 Six-year old trees (Eucalyptus benthamii) harvested for power generationH.D. SILVA, EMBRAPA FORESTRY
Prominent plant
Species: Flooded gum tree (Eucalyptus grandis)
Genome size: 640 million base pairs
A team led by investigators at South Africa's University of Pretoria today (June 11) published in Nature the first reference genome for the eudicot order Myrtales, that of Eucalyptus grandis. Within the 640-megabase genome, the researchers predicted 36,376 protein-coding genes, a third of which exist within tandem duplications, "the largest proportion thus far in plant genomes," they wrote in their paper. The researchers also identified genes behind specialized metabolites that play roles in the plant's defense and contribute to the production of essential oils used across a variety of industries.
"Future studies of variation in functional genes will provide insights into the relative influences of drift and selection on Eucalyptus evolution and identify mechanisms of speciation and adaptive...
Dolly, decoded
TIANXIANG WANGSpecies: Sheep (Ovis aries)
Genome size: 2.61 billion base pairs
By sequencing a reference sheep genome and analyzing transcriptome sequences from 40 different tissues, members of the International Sheep Genomics Consortium this month (June 5) pinpointed genes involved in rumen evolution as well as those critical for lipid metabolism and wool synthesis. Their work was published in Science.
"We identified a new pathway for the metabolism of lipid in sheep skin, which may play a role in both the development of wool and in the efficient production of wool grease," Brian Dalrymple from the Commonwealth Scientific and Industrial Research Organisation (CSIRO) Animal Food and Health Sciences in Australia said in a statement.
"Sheep were one of the first animals to be domesticated for farming and are still an important part of the global agricultural economy," added Alan Archibald from the University of Edinburgh's Roslin Institute, in a press release. "Understanding more about their genetic make-up will help us to breed healthier and more productive flocks."
Cancer-resistant rodent
Spalax ehrenbergiWIKIMEDIA, BASSEM18Species: Blind mole rat (Spalax galili)
Genome size: 3 billion base pairs
A model for both cancer research and adaptation to life underground, the blind mole rat has now had its genome sequenced. A team led by investigators at China's BGI published the rodent's genome and transcriptome in Nature Communications this month (June 3).
While the blind mole rat and the naked mole rat are separated by more than 70 million years of evolution, both species are remarkably resistant to cancer.
"Now that [the blind more rat's] complete genome is available, it will make it much easier to probe their unique genetic features, with potential applications for human medical research," The PHG Foundation's Philippa Brice, who was not involved in the work, told BBC News.
"The remarkable traits of the BMR [blind mole rat], together with its genomic and transcriptomic information, enhance our understanding of adaptation to extreme environments and will enable the utilization of BMR models for biomedical research in the fight against cancer, stroke and cardiovascular diseases," the authors wrote in their paper.
Crop of Citrus
WIKIMEDIA, USDASpecies: Clementine (Citrus clementina), among others
Genome size: 301 million base pairs (C. clementina)
A team led by investigators at the US Department of Energy Joint Genome Institute and the University of Florida have sequenced and analyzed the genomes of several varieties of fruits in the Citrus genus, including four mandarins, two pummelos, and one sour orange, in an effort to better understand their phylogeny. Their work was published in Nature Biotechnology this week (June 8).
"Citrus has incestuous genes—nothing is pure," study coauthor Fred Gmitter from Florida's Citrus Research and Education Center in Lake Alfred said in a statement, explaining how genome mixing among citrus varieties has given rise to the diversity of fruits grown today. Gmitter added that having these sequences in hand could help researchers better combat crop diseases like citrus greening. "Now that we understand the genetic structure of sweet orange, for example, we can imagine reproducing early citrus domestication using modern breeding techniques that could draw from a broader pool of natural variation and [disease-]resistance," he said.
Global grains
FLICKR, IRRISpecies: Asian rice (Oryza sativa), among others
Members of the 3,000 Rice Genomes Project last month (May 28) delivered on their promise to make public the genomic sequences of 3,000 rice varieties from 89 countries. Their initial analysis of the monumental dataset was published in GigaScience.
The team's phylogenetic analysis differentiated two major groups (indica and japonica), two smaller varietal groups (aus/boro and basmati/sadri), and another small group of admixed rice types.
"The 3,000 genomes will help us explore new genes needed to create new adaptive varieties; this is becoming increasingly important to sustain rice productivity and to ensure food security under the impact of climate change," study coauthor Hei Leung, a plant geneticist at the International Rice Research Institute in Los Baños, the Philippines, told ScienceInsider.
"We hope that this data note will be the beginning of a new round of accelerated discoveries in rice science," the researchers wrote in their paper, calling for "an international effort to [further] analyze and mine the dataset."
Interested in reading more?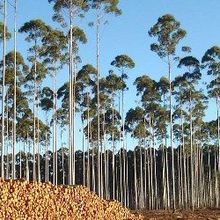 The Scientist ARCHIVES
Become a Member of
Receive full access to more than 35 years of archives, as well as TS Digest, digital editions of The Scientist, feature stories, and much more!