© JENNIFER SILVERBERGAfter years of working in plant nurseries and flower shops, newly graduated biologist Andrea Eveland went looking for lab experience. She found it as a research assistant at Torrey Mesa Research Institute, an agricultural research branch of the biotech company Syngenta.
Mentored by the postdocs and other scientists in her lab, Eveland began learning about molecular biology and crop improvement. "I started applying to graduate programs in plant biology, and I came back to corn and agriculture immediately because I saw the future in that," Eveland says.
In 2002, she entered a PhD program at the University of Florida under maize physiologist Karen Koch. Eveland's research focused on the genes and enzymes that control sugars moving into developing maize kernels and how stress affects those pathways. As part of her work, she developed a strategy to analyze the expression of closely related genes, using high-throughput...
But to continue working with gene networks, Eveland knew she needed a stronger foundation in bioinformatics. "She realized very early on that the ability to analyze very large sets of data, particularly genome data, was going to be tremendously important," says Elizabeth Kellogg, a plant geneticist currently working with Eveland at the Donald Danforth Plant Science Center in Missouri.
After earning her PhD in 2008, Eveland became a postdoc at Cold Spring Harbor Laboratory, co-mentored by maize developmental geneticist David Jackson and computational biologist Doreen Ware. There, she studied the development of maize inflorescences: the plant's male flower (tassel), the source of pollen, and female flower (ear), where kernels form.
Eveland and her colleagues matched physical features of developing inflorescences with high-throughput gene expression data to identify gene networks that control inflorescence growth. "I was helping generate data in the developmental biology lab and then analyzing those data sets in the bioinformatics lab, so it became a really integrated experience," Eveland says. Over the course of the research, she discovered that one of the primary genes controlling leaf architecture also plays a key role in inflorescence development.2 The team also identified the role of transcription factor FEA4 in regulating the size of the meristem, the site of pluripotent stem cells that give rise to a plant's form and structures.3
In 2014, Eveland joined the Donald Danforth Plant Science Center, where she continues to concentrate on the developmental genetics and genomics of plant architecture in cereal crops. "She's very passionate, very focused and excited," says Sarah Hake, a plant developmental geneticist at the University of California, Berkeley, and one of Eveland's collaborators.
One of Eveland's current interests, a carryover from her postdoctoral research, is integrating molecular and phenotypic data to define gene networks involved in multiple aspects of plant development. She hopes that understanding these networks will help breed crops that are more productive under stress.
With Kellogg, Eveland is studying inflorescence development in green millet (Setaria viridis), an emerging model system for corn and other food crops. Her team is using CRISPR-Cas9–based genome editing to selectively disable Setaria and maize genes to dissect their function.
A.L. Eveland et al., "Transcript profiling by 3′-untranslated region sequencing resolves expression of gene families," Plant Physiol, 146:32-44, 2008. (Cited 99 times)
A.L. Eveland et al., "Regulatory modules controlling maize inflorescence architecture," Genome Res, 24:431-43, 2014. (Cited 32 times)
M. Pautler et al., "FASCIATED EAR4 encodes a bZIP transcription factor that regulates shoot meristem size in maize," Plant Cell, 27:104-20, 2015. (Cited 17 times)
Interested in reading more?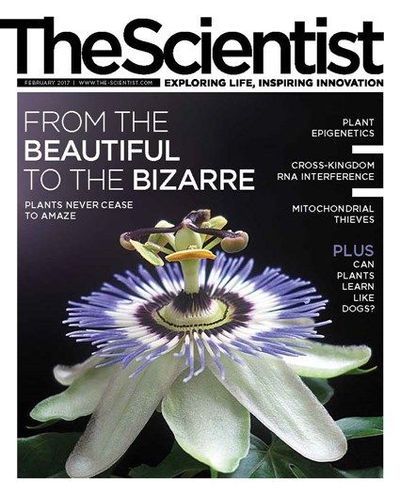 Become a Member of
Receive full access to digital editions of The Scientist, as well as TS Digest, feature stories, more than 35 years of archives, and much more!