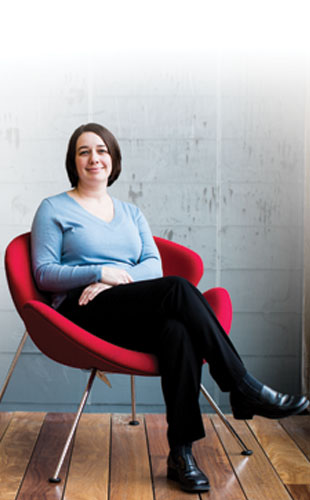 © NARAYAN MAHON/WONDERFUL MACHINEBioengineer Jennifer Reed probably wouldn't have become a rising star in the field of metabolic modeling if it weren't for Andrew McCulloch, the University of California, San Diego (UCSD), prof who taught her undergraduate statistics course. McCulloch advised the young Reed to pursue a PhD. "You should never talk anyone into doing a PhD," he says, "but [Reed] clearly had the intellect and everything it would take to become the outstanding scientist she's turned out to be."

METHODS: The daughter and granddaughter of engineers, Reed gravitated naturally toward problem solving. "I was always just kind of interested in how things work," she says. That penchant for tinkering found expression in UCSD's bioengineering program. After two internships—one at a chemical engineering company and one at the National Institutes of Health in Maryland—she set off for graduate school, prepared to devote her life to research and the...
Reed secured a spot in the lab of UCSD systems biologist Bernhard Palsson, who had been similarly impressed with her when she took his undergrad class on modeling metabolism, a class that Reed says "really got me intrigued that you can take something as inherently complex as a cell and predict how that cell will behave using math."

RESULTS: In Palsson's lab, Reed focused on the computational biology necessary to model the enzymatic pathways involved in E. coli metabolism, but also tested her predictions in the wet lab—a dualism that continues to mark her approach to studying the mechanics of metabolism. She led a successful effort to construct the most complete, genome-scale metabolic model of E. coli (named iJR904 in her honor) of the time, which is still used by researchers in the field today.1

DISCUSSION: Forgoing a traditional postdoc, Reed entered the University of California system's faculty fellowship program, teaching graduate-level courses while refining her E. coli model.2 Reed developed a first-of-its-kind algorithm that metabolism modelers could use to "backfill" computational models, by using discrepancies in experimental validations to propose new hypotheses to alter models. "She said, 'If there's a difference between what I measure and what I compute, I can use that difference as a hypothesis to change the model,' " explains Palsson.
In 2007, Reed set up her own lab at the University of Wisconsin–Madison (UW), where she's branching out from E. coli and getting into other organisms. Reed is exploring cyanobacteria as a potential generator of biofuels, work that netted her a US Department of Energy early career award last year.
Brian Pfleger, a UW synthetic biologist who frequently collaborates with Reed, says that her work on both the computational and experimental ends of the metabolism modeling spectrum is one of her great strengths. "She's not modeling fictitious systems," he says. "She's certainly willing to go and collect the data if it doesn't exist, especially when the data is essential to validating her models."
Most recently, Reed has developed a computational tool, called FOCAL, that allows researchers modeling metabolism on a whole-genome scale to identify genetic and environmental conditions that are essential for an experimentally measurable phenotype, allowing complex network connections to be queried.3
Sean Palecek, a UW chemical engineer, was on the selection committee that brought Reed to Wisconsin 6 years ago. "She has really exceeded our expectations," he says. "She's really brought together and utilized different groups of faculty and departments on campus to work towards a common goal. And her trajectory is still on the upward swing."

LITERATURE CITED:
1. J.L. Reed et al., "An expanded genome-scale model of Escherichia coli K-12 (iJR904 GSM/GPR)," Genome Biology, 4:R54.1-R54.12, 2003 (Cited 654 times)
2. J.L. Reed et al., "Systems approach to refining genome annotation," PNAS, 103: 17480-84, 2006 (Cited 128 times)
3. C.J. Tervo, J.L. Reed, "FOCAL: an experimental design tool for systematizing metabolic discoveries and model development," Genome Biology, in press.
Interested in reading more?
Become a Member of
Receive full access to digital editions of The Scientist, as well as TS Digest, feature stories, more than 35 years of archives, and much more!