© JAY EADSDuring his final year as an undergraduate anthropology major at the University of California, Santa Cruz, Josh Snodgrass began working criminal cases with forensic anthropologist Alison Galloway. After graduating in 1995, Snodgrass spent a month in the former Yugoslavia, analyzing human remains from mass graves. "It was an amazing experience, but oh, man, it takes a toll," he recalls, "and in the end, I just didn't find [forensic anthropology] intellectually satisfying enough."
Instead, Snodgrass studied the evolution of early hominins at the University of Florida, earning a master's degree in 1998. After many lively discussions with William Leonard, who was on his master's thesis committee, Snodgrass realized that "if we want to understand human evolution, we need a better grasp of the adaptive dimensions of human biology in living populations, and we need more data on that." Another new direction beckoned.

METHODS: In 2001, as a...
In the early 2000s, indigenous Siberians called the Yakut began to abandon traditional ways of life, meaning they became less physically active and ate more high-calorie Western foods. As a result, Snodgrass found, they developed high blood pressure and an increased risk of stroke, but maintained low cholesterol levels. Pima people of the southwestern United States, on the other hand, when faced with similar lifestyle changes, developed high cholesterol and an increased risk of diabetes, but maintained low blood pressure.
Snodgrass showed that the Yakut have elevated basal metabolic rates (BMR), likely an adaptation to cold. He also found that BMR correlates positively with blood pressure and negatively with LDL cholesterol. Thus, Snodgrass reasoned, it might be their fast metabolisms that make indigenous Siberians susceptible to hypertension but protect them against high cholesterol and diabetes.1

RESULTS: "There are not many people up to the challenge of fieldwork in remote places like Siberia," says Leonard, who with Snodgrass codirects the Indigenous Siberian Health and Adaptation Project. "But Josh is one of the rare biological anthropologists who is equally adept in both field and laboratory settings."
In the lab, Snodgrass has collaborated with Thom McDade, also at Northwestern, to develop biomarkers for assessing immune function and other physiological effects of psychosocial stress that can be obtained from minimally invasive blood samples for population-based research.2
Since joining the University of Oregon as an assistant professor in 2005, Snodgrass has also studied indigenous Shuar communities in the Ecuadorean Amazon. Among other things, Snodgrass and colleagues have found that the Shuar do not seem to suffer from chronic low-grade inflammation, which is common in the developed world and associated with various diseases.3 He is also working with the Shuar to see how exposure to infectious microbes and parasitic worms influences inflammatory response and disease risk.

DISCUSSION: Snodgrass's intellectual flexibility has impressed his collaborators. "Josh has at his disposal an exceptionally wide range of field, laboratory, and statistical methods, and he has integrated these methods in innovative ways," says McDade. "In an era of overspecialization in anthropology in general, and within biological anthropology in particular, Josh stands out as a well-rounded and flexible scholar."

REFERENCES:
J.J. Snodgrass et al., "Adaptive dimension of health research among indigenous Siberians," Am J Hum Biol, 19:165-80, 2007. (Cited 29 times)
T.W. McDade et al., "What a drop can do: dried blood spots as a minimally invasive method for integrating biomarkers into population-based research," Demography, 44:899-925, 2007. (Cited 166 times)
T.W. McDade et al., "Analysis of variability of high sensitivity C-reactive protein in lowland Ecuador reveals no evidence of chronic low-grade inflammation," Am J Hum Biol, 24:675-81, 2012. (Cited 8 times)
Interested in reading more?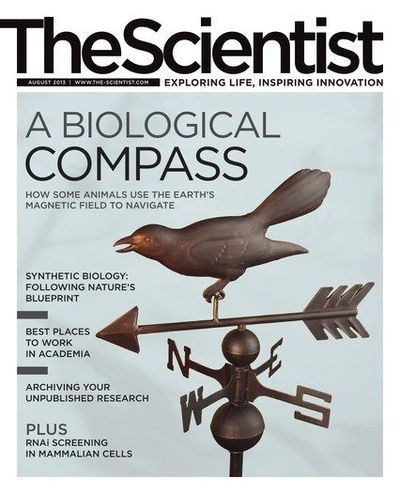 Become a Member of
Receive full access to digital editions of The Scientist, as well as TS Digest, feature stories, more than 35 years of archives, and much more!