© AARON OTTISHouston, Texas–born biochemist Peter Cornish has always excelled at scientific research, be it his elementary school science project investigating which types of molecules give substances their smells or his work today on ribosome dynamics during translation.
Before heading to college at Graceland University in Iowa, he sat down with his parents and mapped out the next 4 years, with the goal of preparing for medical school. "I've always known what to do to get to the next stage," he says. "I always had in the back of my mind what it [took] to get there."
Cornish eventually majored in premed biology, chemistry, and math but later refocused his ambitions from medical school to graduate school in biochemistry. "It was intriguing to me that I could go to grad school and get paid to do that," he says.

METHODS: In biochemist David Giedroc's lab at Texas A&M...
Cornish used nuclear magnetic resonance (NMR) spectroscopy to characterize the atomic structure and chemical properties of pseudo-knots, structures in mRNA that cause ribosomes to frameshift and bypass "stop" codons.1
Giedroc, now at Indiana University, says that Cornish was one of the few students he's mentored who kept regular hours—arriving at work between 7:30 and 8:00 a.m. with lunch bag in hand, working steadily, and leaving in the evening. "He was a machine," Giedroc says. "He was very efficient."

RESULTS: Following graduate school, Cornish headed to the University of Illinois at Urbana-Champaign for a postdoc in the lab of physicist Taekjip Ha, who was developing single-molecule techniques for making measurements at the nanoscale.
Cornish measured the movements of the ribosome's two subunits during translation using single-molecule fluorescence resonance energy transfer (FRET), a molecular ruler that can record spatial relationships and how they change in real time. He discovered that ribosomes display Brownian motion, rocking back and forth as they move along strands of mRNA.2 Scientists had observed ribosomes' movements before, but it had been unclear whether some outside molecule or reaction was moving the ribosomal subunits or whether thermal energy was driving the motion, as Cornish ultimately found.
Cornish also collaborated on a study that used single-molecule techniques to characterize a viral RNA–detecting protein found in bacteria.3 Ha says that other research groups came to opposing conclusions because they had not purified their RNA well enough. "We were right because of Peter's great biochemistry skill," Ha says.

DISCUSSION: In 2010, Cornish started a lab at the University of Missouri (MU) in Columbia, where he is bringing his graduate school and postdoctoral research together, applying single-molecule FRET to explore how the ribosome interacts with RNA during frameshifting. He is also screening compounds that could target and disable virus-mediated frameshifting
In 2012, Cornish won a CAREER Award from the National Science Foundation that funds two graduate students for 5 years. The same year he was selected as a Pew Scholar, which comes with a grant of just under a quarter of a million dollars. Jerry Hazelbauer, Cornish's department head at UM, says that despite the new faculty member's understated demeanor, he is very much in demand, both among students and other professors who want to collaborate. "He doesn't come across as flashy," Hazelbauer says. "He comes across as very good."

P.V. Cornish et al., "A loop 2 cytidine-stem 1 minor groove interaction as a positive determinant for pseudoknot-stimulated −1 ribosomal frameshifting," PNAS, 102:12694-99, 2005. (Cited 48 times)
P.V. Cornish et al., "Spontaneous intersubunit rotation in single ribosomes," Mol Cell, 30:578-88, 2008. (Cited 132 times)
S. Myong et al., "Cytosolic viral sensor RIG-I is a 5'-triphosphate-dependent translocase on double-stranded RNA," Science, 323:1070-74, 2009. (Cited 125 times)
Interested in reading more?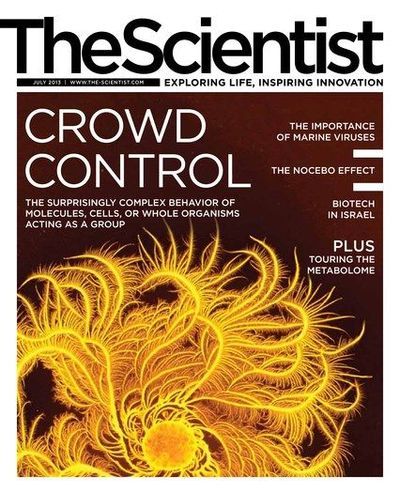 Become a Member of
Receive full access to digital editions of The Scientist, as well as TS Digest, feature stories, more than 35 years of archives, and much more!