© JAKOB SKOGHEIMAs a high schooler in Toronto, Sari van Anders had some unusual aspirations. "I thought I'd be a biological anthropologist by day and an art critic by night," she says. It didn't quite pan out that way. But straddling disciplines in eyebrow-raising ways would become a hallmark of van Anders's scientific career. Ultimately, she settled on social neuroendocrinology, which blends biological approaches with social contexts, and made it her goal to unravel the complex interplay between hormones, sexuality, and social behavior.
As a budding feminist and undergraduate at the University of Western Ontario, van Anders was drawn to psychology and the evolution of sex and gender differences. She did her PhD under Neil Watson at Simon Fraser University in Vancouver, where she investigated the influence of sexual and intimate experiences on hormones in humans. "Sari was a spectacular graduate student," says Watson. "She leapt far beyond...
Among other things, van Anders found that sexual intercourse increased testosterone levels in women compared to control activities, such as exercise akin to a brisk, 15-minute walk.1 Cuddling had the same effect, suggesting that the physical intimacy component of intercourse, rather than the exertion component mediates testosterone increases. The results also indicated that cuddling is a more erotic experience than typically thought, which van Anders later confirmed in a detailed study of cuddling. With such insights van Anders began to generate what Watson describes as a "more dynamic understanding of hormone-behavior interactions . . . that has reinvigorated the field."
Having published 18 papers by the time she finished graduate school, van Anders skipped postdoctoral work and landed a tenure-track position at Indiana University in Bloomington. A year later she moved to the University of Michigan, Ann Arbor, where her lab dreams up novel experiments to investigate the social modulation of hormones and sexuality. "Participants don't have sex in the lab, and you can't cut up their brains," says van Anders. "So you have to find creative ways to answer your questions."
To measure the hormonal effects of just thinking about sex, van Anders and her graduate student Katherine Goldey created an imagined-situation exercise to guide the thoughts of female participants. Before-and-after saliva samples revealed that, in women not taking the contraceptive pill, "sexy thoughts" increased testosterone compared to nonsexy thoughts.2 "The idea that our thoughts alone can influence our hormones, that's really exciting," says van Anders. Now she's trying to figure out whether those testosterone spikes in response to sexual thoughts and activity might somehow regulate vaginal immunity to protect against sexually transmitted infections.
In 2012, van Anders demonstrated that the higher sexual desire typically shown by men compared to women is driven by masturbation frequency, rather than by testosterone levels.3
"What Sari is doing is really unique," says Jill Becker, a behavioral neuroscientist at the University of Michigan. "It's always been assumed that hormones cause behavioral changes, but Sari is showing it can be other way around: behavior can control hormones to a very large extent."
In May 2013 van Anders received the American Psychological Society's Janet Taylor Spence Award for Transformative Early Career Contributions. Attempting to distill the qualities behind such success, Watson points to van Anders's "brilliant intellect" and the strength of her convictions. "It's not that she's stubborn," says Watson. "She is perfectly willing to be convinced by good data, but she won't be told by 'experts' that an idea has no merit or isn't worth studying."
S.M. van Anders et al., "Associations between testosterone secretion and sexual activity in women," Horm Behav, 51:477-82, 2007. (Cited 53 times)
K.L. Goldey, S.M. van Anders, "Sexy thoughts: effects of sexual cognitions on testosterone, cortisol, and arousal in women," Horm Behav, 59:754-64, 2011. (Cited 26 times)
S.M. van Anders, "Testosterone and sexual desire in healthy women and men," Arch Sex Behav, 41:1471-84, 2012. (Cited 14 times)
Interested in reading more?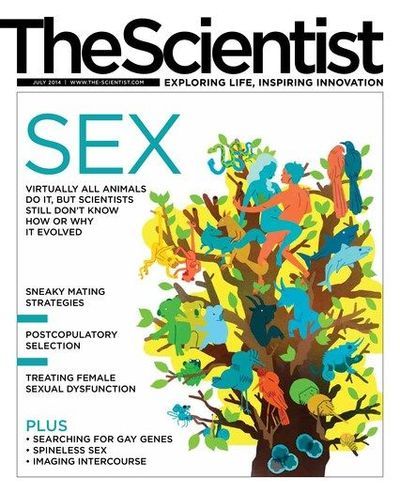 Become a Member of
Receive full access to digital editions of The Scientist, as well as TS Digest, feature stories, more than 35 years of archives, and much more!