© JIM CORNFIELDWhen Sarkis Mazmanian was 13 years old, he took apart the family television "because I wanted to understand how it worked," he says. "And I was convinced I was going to be able to put it back together." He was wrong on both counts, and his parents were forced to throw the TV out. But it foreshadowed how Mazmanian would spend his career: taking systems apart to understand how they function. "There are a lot of parallels between a television and how it operates and an organism and how it operates," he says—"a lot of different pieces working in a system as a whole."

METHODS: As a graduate student in the lab of microbiologist Olaf Schneewind at the University of California, Los Angeles, Mazmanian signed on to a project that had been pursued in the lab on and off for the better part of a decade:...
"It really opened up an entire field of research," Mazmanian says, with more than two dozen labs now studying sortase's role in pathogenesis and its potential as a target for antimicrobials.

RESULTS: In 2002, after several highly cited publications, Mazmanian was ready for a change. He found it in Dennis Kasper's lab at Harvard Medical School, where he helped develop lines of germ-free mice to study the gut microbiome. He soon learned that mice lacking all gut flora exhibited abnormal immune development: 1-year-old mice (roughly middle-aged) had the immune systems of neonates. Exposing young germ-free mice to groups of commensal bacteria normally found in the gut, he found one—Bacteroides fragilis—that reversed the phenotype.2 "When we added this one organism back, its immune system looked like the immune system of a mouse that had 500 species of bacteria," he says. "This one organism was able to drive the maturation of the immune system."
He identified polysaccharide A (PSA) as the molecule that effected the immune changes. Mice colonized with B. fragilis bacteria lacking PSA developed a stunted immune system, whereas mice fed purified PSA developed the immune system of a fully colonized mouse. (Read more about Mazmanian's work, PSA, and the role of bacteria in immunity in "Microbial Health Factor," The Scientist, August 2009.)

DISCUSSION: Now in his own lab at the California Institute of Technology, Mazmanian has learned that PSA induces the development of immune cells called regulatory T cells (Tregs), which tell the immune response when to turn off.3 Dysfunction in Tregs is associated with numerous inflammatory, autoimmune, and allergic disorders in humans, and Mazmanian and his colleagues have shown that feeding PSA to a mouse with inflammatory bowel disease or multiple sclerosis can treat and even cure the ailments.
Last year, Mazmanian won a MacArthur Foundation "genius grant," raking in half a million dollars to continue his work on the interplay between commensal microbes and host immune systems. "Sarkis has always been on a very, very steep trajectory," says Kasper. "Where he's going, I have no idea, but he's certainly on the highest level of science in this field."

S.K. Mazmanian et al., "Staphylococcus aureus sortase, an enzyme that anchors surface proteins to the cell wall," Science, 285:760-63, 1999. (Cited 438 times)
S.K. Mazmanian et al., "An immunomodulatory molecule of symbiotic bacteria directs maturation of the host immune system," Cell, 122:107-18, 2005. (Cited 675 times)
J.L. Round et al., "The Toll-like receptor 2 pathway establishes colonization by a commensal of the human microbiota," Science, 332:974-77, 2011. (Cited 142 times)
Interested in reading more?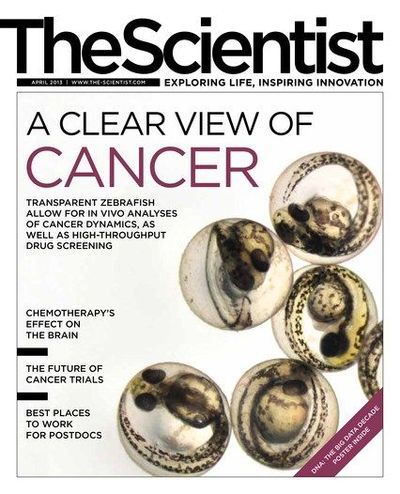 Become a Member of
Receive full access to digital editions of The Scientist, as well as TS Digest, feature stories, more than 35 years of archives, and much more!