© JILL HUNTERAs an undergraduate, Yun "Nancy" Huang thought she wanted to be a doctor. But after earning a bachelor's degree from Zhejiang University School of Medicine in Hangzhou, China, she says, "I realized that in order to cure. . .disease, I needed to learn the basic biology of disease."
In 2005, Huang moved to the U.S. to begin a doctorate in biochemistry under Jenny Yang at Georgia State University. "I still remember vividly the day she joined my lab," says Yang. She asked Huang to prepare a presentation reviewing a topic about which Huang knew nothing, and the newly arrived doctoral student shot back that she'd be ready to do it the very next week. "I was quite shocked at her quick response and her confidence."
Yang says she felt free to push Huang more than other students. "She was fearless with any challenge placed in front...
After receiving her PhD, Huang joined Anjana Rao's epigenetics lab at Harvard Medical School in 2009 as a postdoc, and she moved with the lab to the La Jolla Institute for Allergy and Immunology a year later. Rao's group had just discovered ten-eleven translocation (TET) proteins, which regulate DNA methylation by converting methylated cytosine (5-mC) into hydroxymethylated cytosine (5-hmC).
Researchers studying TET activity traditionally used a process called bisulfite sequencing, which converts unmethylated cytosines into uracils, leaving all of the methylated cytosines behind to be easily identified. Huang and her fellow postdoc William Pastor showed that the same process was no use in determining whether 5-mC groups had been converted into 5-hmC groups.2
Because bisulfite does not convert 5-hmC into uracil, many studies over the past decade had inaccurately identified 5-hmC groups as 5-mC groups. Instead, bisulfite converts 5-hmC into a product called cytosine-5-methylenesulfonate (CMS), so Huang developed an anti-CMS antibody and worked out an immunoprecipitation protocol that she used to map out 5-hmC epigenetic marks in embryonic stem cell genomes.3 Rao says the antibody was also crucial for studying the role of one of the TET proteins, TET2, in myeloid cancers. Huang, along with her labmate, Myunggon Ko, showed that cancer patients with TET2 mutations had low levels of 5-hmC in their genomic DNA.4 Huang and her colleagues also used the CMS probe to map the methylation landscape of hematopoietic stem cells and to identify epigenetic differences between healthy and leukemic cells.5
As a postdoc, Huang was known for her eagerness to form collaborations, which have paid off in many ways. Her collaborator Margaret Goodell at Baylor College of Medicine, along with institute director Cheryl Walker, were instrumental in recruiting Huang to the Institute of Biosciences and Technology at Texas A&M Health Science Center, where she started as a faculty member last year, with a little persuading from Rao. "She really encouraged me to become independent," says Huang.
Goodell says Huang is already known around the Institute for her collaborative spirit. "She really enriches the immediate scientific environment by thinking very broadly and being very vocal with suggestions," says Goodell. "I have always found that you get the furthest by generosity in science, and I think she really embodies that."
Editor's Note (August 27): The original version of this article omitted the contribution of Institute of Biosciences and Technology director Cheryl Walker in recruiting Huang to the IBT. This fact has been added. The Scientist regrets the error.
Interested in reading more?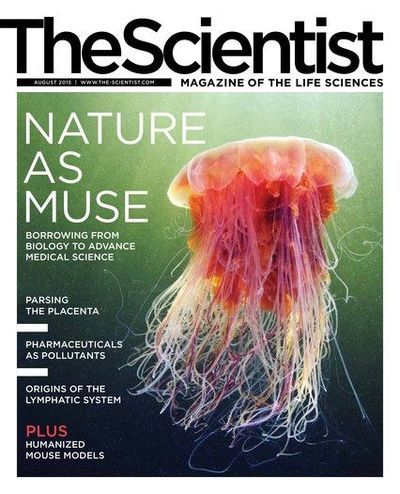 Become a Member of
Receive full access to digital editions of The Scientist, as well as TS Digest, feature stories, more than 35 years of archives, and much more!