SNIP SNIP: A veritable who's who of gene-editing researchers gathered in early December for the International Summit on Human Gene Editing to discuss new technologies and their ethical application.© ISTOCK.COM/WILDPIXEL
We could be on the cusp of a new era in human history. Although gene editing is in its infancy today, it is likely that the pressure to use gene editing will increase in time, and the actions we take now will guide us into the future.
—Caltech president emeritus and Nobel laureate David Baltimore, speaking at the start of the International Summit on Human Gene Editing, held in Washington, DC, last month (December 1)
Literature, from Icarus to Frankenstein, gives us the image of disasters following in the steps of hubris of scientists who wanted to play God. But you must recognize that we have been playing God ever since we domesticated plants and...
—Ismail Serageldin, director of Egypt's Library of Alexandria, speaking at the International Summit on Human Gene Editing about the need for caution in applying newer, more-precise methods of gene editing (December 1)
Forced migration is not an option. Movement and migration must happen with dignity.
—Cook Islands Prime Minister Henry Puna, whose people may soon be forced to leave their homeland due to rising sea levels, speaking to reporters on the eve of the 2015 United Nations Climate Change Conference in Paris (December 2)
The scientific process is modern civilization's best means for arriving at reliable truth. And that process should be allowed to work without political meddling.
—Rush Holt, executive publisher of Science and head of the American Association for the Advancement of Science, talking to NPR about a Congressional investigation of a climate change study recently published in the journal (December 8)
The answers and the solutions come in very small packets, and that's just the nature of science, that it's more incremental than the concept of a major breakthrough.
—Jo Handelsman, associate director for science in the White House Office of Science and Technology Policy, on using science to battle serious disease (November 23)
One of the foundational elements of Chomsky's work is that we have a grammar in our head, which underlies our processing of language. Our neurophysiological findings support this theory: we make sense of strings of words because our brains combine words into constituents in a hierarchical manner—a process that reflects an "internal grammar" mechanism.
—David Poeppel, a New York University psychologist who coauthored a recently published Nature Neuroscience paper supporting MIT linguist Noam Chomsky's hypothesis that grammar is hard-wired in humans (December 7)
Interested in reading more?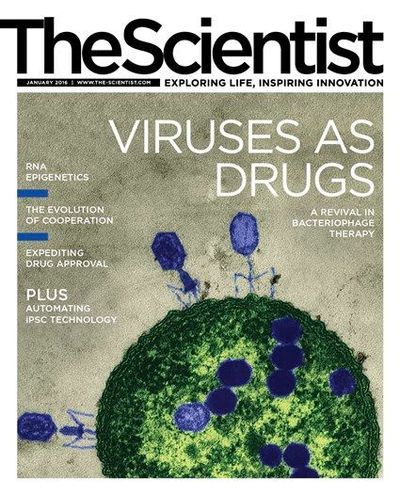 Become a Member of
Receive full access to digital editions of The Scientist, as well as TS Digest, feature stories, more than 35 years of archives, and much more!