OH, CANADA: Justin Trudeau (bottom row, center), Canada's newly elected prime minister, has appointed the country's first ever gender-equal cabinet, which includes Minister of Science Kirsty Duncan (top row, white jacket) and Minister of Innovation, Science, and Economic Development Navdeep Bains (middle row, far left).PRIME MINISTER OF CANADA/FLICKR
Because it's 2015.
—Newly elected Canadian Prime Minister Justin Trudeau, responding to a reporter's question about why he chose to appoint a gender-balanced cabinet, which included the country's first-ever Minister of Science, a medical geographer named Kirsty Duncan, and Navdeep Bains, a businessman now serving as Minister of Innovation, Science, and Economic Development (November 4)
It feels fast, but we are going at the pace science allows.
—Katrine Bosley, Editas Medicine CEO, describing why the company hopes to begin clinical trials of a CRISPR-based gene therapy in 2017, just four years after the first papers...
When I'm ninety, will I look back and be glad about what we have accomplished with this technology? Or will I wish I'd never discovered how it works?
—University of California, Berkeley, molecular biologist Jennifer Doudna, who helped develop CRISPR technology, on the need to exercise caution in the editing of human genes (November 16)
All of us who attempt to do science that breaks new ground are likely to make honest mistakes. Naturally we will try to make as few mistakes as possible, but it is inevitable that when we are working at the frontiers of knowledge, we will not always know which control experiments are necessary.
—Brandeis University neuroscientist Eve Marder, in an eLife article about the importance of acknowledging mistakes in science (October 22)
The distinction between brain and periphery is a bit outdated because the crosstalk is continuous.
—Eve Van Cauter, University of Chicago neuroscientist, during a presentation of data on the links between metabolism, obesity, and sleep disturbances at this year's Society for Neuroscience meeting in Chicago (October 17)
By eliminating federal funding for all aspects of this research, the NIH casts a shadow of negativity toward all experiments involving chimera studies regardless of whether human cells are involved. The current NIH restriction serves as a significant impediment to major scientific progress in the fields of stem cell and developmental biology and regenerative medicine and should be lifted as soon as possible.
—Stanford researcher Sean Wu, commenting on a renewed push to get the National Institutes of Health to lift its ban on funding for studies involving chimeric human/nonhuman embryos (November 5)
I'm the last person on the planet to say something is impossible, but I think, so far, [the idea of privacy] has been delusional.
—Harvard Medical School researcher George Church, commenting on a Global Alliance for Genomics and Health program in which patients' genomic data are shared between research institutions and hospitals (October 29)
Interested in reading more?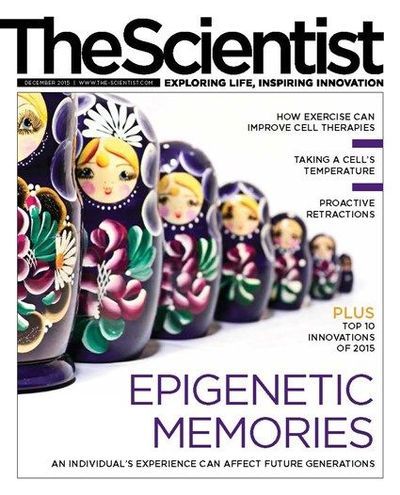 Become a Member of
Receive full access to digital editions of The Scientist, as well as TS Digest, feature stories, more than 35 years of archives, and much more!