© ISTOCKPHOTO.COM/ABLUECUP

We know researchers are already sharing content, often in hidden corners of the Internet or using clumsy, time-consuming practices.
—Timo Hannay, managing director of Digital Science, which is owned by Macmillan Publishers, in a statement announcing a move by the publisher to make the contents of all journals under Nature Publishing Group freely readable online to users sent a link to a paper by a subscriber (December 2)
To me, this smacks of public relations, not open access. With access mandates on the march around the world, this appears to be more about getting ahead of the coming reality in scientific publishing. Now that the funders call the tune and the funders want the articles on the web at no charge, these articles are going to be open anyway.
—Open-access advocate and senior fellow at the Ewing Marion Kauffman Foundation in Kansas City,...
The development of full artificial intelligence could spell the end of the human race. Once humans develop artificial intelligence, it would take off on its own and redesign itself at an ever increasing rate. Humans, who are limited by slow biological evolution, couldn't compete and would be superseded.
—University of Cambridge theoretical physicist Stephen Hawking, talking to the BBC about the dangers of developing artificial intelligence (December 2)
We are drowning in information, while starving for wisdom. The world henceforth will be run by synthesizers, people able to put together the right information at the right time, think critically about it, and make important choices wisely.
—Harvard biologist E.O. Wilson, in his 1998 book Consilience: The Unity of Knowledge
Because I was an "unperson" I was fired from the boards of companies, so I have no income, apart from my academic income.
—James Watson, Chancellor Emeritus of Cold Spring Harbor Laboratory, and codiscoverer of the double-helical structure of DNA, describing his partial motivation for auctioning off his 1962 Nobel Prize medal, which sold on December 4 for $4.1 million (Financial Times, November 28)
In my opinion, a situation in which an outstanding scientist has to sell a medal recognizing his achievements is unacceptable. James Watson is one of the greatest biologists in the history of mankind, and his award for the discovery of DNA structure must belong to him.
—Russian entrepreneur Alisher Usmanov, speaking to The New York Times about his decision to return James Watson's 1962 Nobel Prize medal after paying more than $4.1 million for it at auction (December 9)
The idea that stress plays a role in illness is becoming more and more well defined. It happens both directly and indirectly, directly through mechanisms that we partially understand but not fully, and indirectly through changes in behavior.
—Dean Ornish, University of California, San Francisco, professor of medicine and founder of the university's Preventive Medicine Research Institute, describing science's emerging understanding of the physiological impacts of emotional stress (December 2008)
Interested in reading more?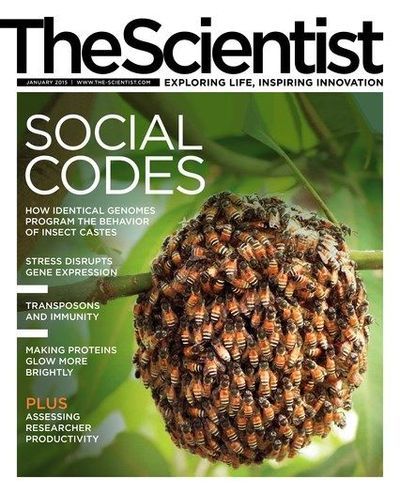 Become a Member of
Receive full access to digital editions of The Scientist, as well as TS Digest, feature stories, more than 35 years of archives, and much more!