© ISTOCKPHOTO.COM/JAMES BREY
To reverse that trend, and to compete in an intensely globalized world, we need to take a big leap forward, fueled by innovation—and we need an innovation system that can deliver new manufacturing technologies and processes to get us there.
—L. Rafael Reif, president of MIT, in remarks to President Barack Obama at a forum on the future of manufacturing in the U.S. (October 27)
A departure from the existing range of accepted medical treatments for a condition is not negligent merely because the decision to depart from that range of treatments was taken otherwise than in accordance with [the responsible innovation process].
— From the draft of the Medical Innovation Bill, legislation now before the British Parliament that aims to provide doctors with greater freedom to prescribe innovative new treatments for patients with chronic illnesses (October 29)
...
Given that conference participants with a travel and exposure history for [Ebola] are recommended not to participate in large group settings (such as this conference) or to utilize public transport, we see no utility in you traveling to New Orleans to simply be confined to your room.
—Kathy Kliebert and Kevin Davis, secretary of Louisiana's Department of Health & Hospitals and director of the Governor's Office of Homeland Security & Emergency Preparedness, respectively, in an e-mail to registrants of the annual meeting of the American Society for Tropical Medicine and Hygiene, which was held in New Orleans in early November (October 29)
Viruses are not just these threatening or annoying parasitic agents. They're the creative front of biology, where things get figured out, and they always have been.
—Luis P. Villarreal, founding director of the Center for Virus Research at the University of California, Irvine (The New York Times, October 27)
I wanted to rewrite the code of life, to make new molecular machines that would solve human problems. I'm sure that there are people who are skeptical that a woman can do this job as well as a man. I am blissfully unaware of such people—and have been gifted with the ability to ignore them completely.
—Caltech biochemical engineer Frances Arnold talking to NPR about being a woman in science (October 27)
I believe everybody is born a scientist. It's just unfortunate that with a lot of them, it gets beat out of them.
—Physicist and 2014 Nobel Laureate Eric Betzig of the Howard Hughes Medical Institute's Janelia Research Campus (The New York Times, November 8)
Interested in reading more?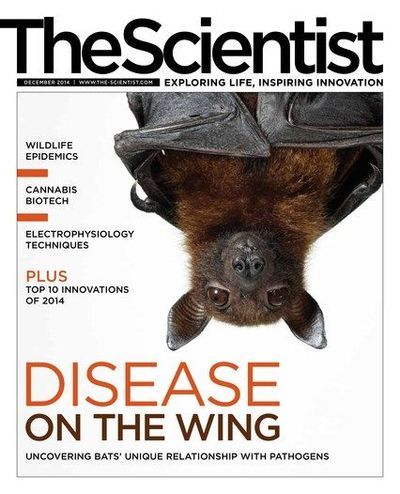 Become a Member of
Receive full access to digital editions of The Scientist, as well as TS Digest, feature stories, more than 35 years of archives, and much more!