HOT ZONE: Two medical staff carry a weak patient, who has been in contact with people infected with Ebola, to be admitted to a Doctors Without Borders/Médecins Sans Frontières (MSF) Ebola treatment center in Kailahun, Sierra Leone. SYLVAIN CHERKAOUI/COSMOS
This is an epidemic of dysfunctional health systems. Fear of the virus, and the lack of trust in government, in the health system, is as bad as the actual virus.
—Peter Piot, director of the London School of Hygiene and Tropical Medicine and the codiscoverer of the Ebola virus, talking to CNN about the current Ebola epidemic that has claimed more than 500 lives in West Africa between March and July (July 3)
We still have no idea how many villages are affected. I'm afraid we've only seen the tip of the iceberg.
—Médecins Sans Frontières emergency coordinator Anja Wolz,
on the aid group's efforts...
Biology isn't elegant the way physics appears to be. The living world is bursting with variety and unpredictable complexity, because biology is the product of historical accidents, with species solving problems based on happenstance that leads them down one evolutionary road rather than another.
—New York University psychologist Gary Marcus, in a New York Times opinion piece about the challenges involved with conducting research in neuroscience (July 11)
I cannot say that the sasquatch or related animal does not exist. But at the moment I have no evidence of the existence of these creatures.
—Michel Sartori, an entomologist at the Museum of Zoology in Lausanne, Switzerland, and coauthor of a recent Proceedings of the Royal Society B: Biological Sciences report about the results of DNA tests on 30 hair samples attributed to yetis, bigfoots, or sasquatches (USA Today, July 2)
These events should never have happened. Together, these events I'm sure have many people asking and questioning government labs. They may be wondering whether we're doing what we need to do to keep our workers and our communities safe. And I think it's fair to raise those questions. I'm disappointed by what happened, and frankly, I'm angry about it.
—Thomas Frieden, director of the US Centers for Disease Control and Prevention (CDC), speaking during a press conference about three recent incidents involving potential exposure to deadly viruses and bacteria (July 11)
Anyone sensible and objective looking at this, who had any doubts about the heritability of human intelligence . . . should put those worries to rest.
—University of Edinburgh psychologist Alexander Weiss, speaking to The Scientist about a recently published Current Biology study that offered evidence supporting the heritability of intelligence in chimps (July 10)
Interested in reading more?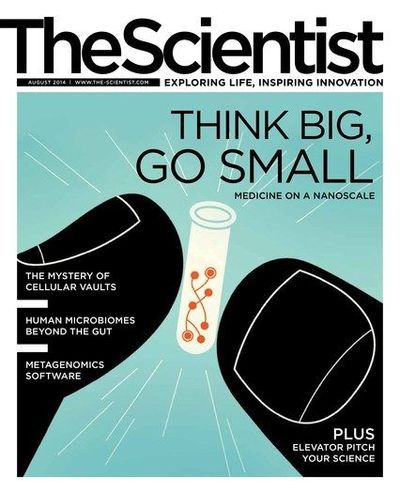 Become a Member of
Receive full access to digital editions of The Scientist, as well as TS Digest, feature stories, more than 35 years of archives, and much more!