SMELL A RAT? One blogger did, and published a zoomed-in view (inset) of this image from NASA's Curiosity rover to "prove" it.WWW.NASA.GOV
It's a cute rodent on Mars. Note its lighter-color upper and lower eyelids, its nose and cheek areas, its ear, its front leg and stomach. Looks similar to a squirrel camouflaged in the stones and sand by its colors.
—Scott Waring, writing on his UFO Sightings Daily blog about a photo snapped by NASA's Curiosity Mars rover that went viral in May because some claimed that it showed a rodent on the Red Planet
When the authority of scientists and journalists is hybridized with mass media entertainment, astrobiologists peering into telescopes and computer screens can scarcely be expected to compete for a place in the public imagination.
—University of Hawaii at Manoa researcher Rich Gazan, in a report he recently published on the...
A DNA profile is useful to the police
because it gives them a form of identification to search
the records already in their valid possession.
—Justice Anthony Kennedy, author of the majority opinion in the recent
Supreme Court ruling that upholds the police practice of collecting DNA
evidence from suspects at the time of their arrest (June 3)
Just because you've been arrested
doesn't mean that you lose the privacy
expectations and things you have that
aren't related to the offense that you've
been arrested for.
—Justice Elena Kagan, opining during oral argument in the Maryland v. King
case about whether police should be permitted under the Fourth Amendment
to collect DNA evidence from crime suspects at the time of their arrest (June 3)
The Anthropocebo Effect is then a
psychological condition that exacerbates
human-induced damage—a certain
pessimism that makes us accept human
destruction as inevitable.
—New York University environmental scientist Jennifer Jacquet, in reply
to Edge.org's annual question, "What 'should' we be worried about?"
I have little patience for the risk-averse
culture of academics. The bottom line is:
People need to decide if they want to be
heard, or if they want to be validated. . . .
What is the difference between being
heard and being validated? It's whether
you are contributing to the solution or
to the hindsight.
—University of Wisconsin–Madison anthropologist John Hawks,
writing on his blog about the value of blogging in science (June 7)
Interested in reading more?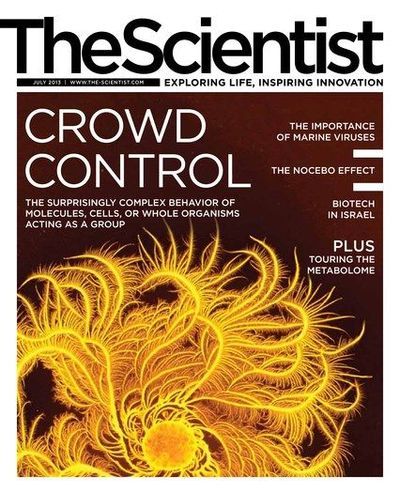 Become a Member of
Receive full access to digital editions of The Scientist, as well as TS Digest, feature stories, more than 35 years of archives, and much more!