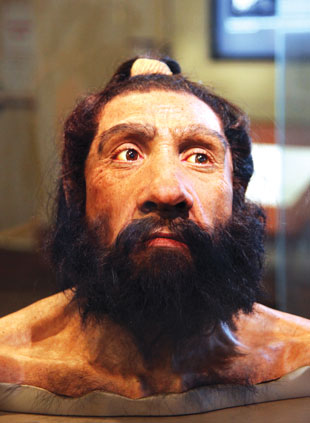 CLONABLE? Harvard researcher George Church ignited a bit of an intellectual firestorm recently when he suggested the possibility of cloning Neanderthals.© DCTIM1/FLICKR
Another technology that the de-extinction of a Neanderthal would require is human cloning. We can clone all kinds of mammals, so it's very likely that we could clone a human. Why shouldn't we be able to do so?
—Harvard synthetic biologist George Church on the feasibility of cloning a Neanderthal, from the English translation of a Spiegel Online interview, which was badly misquoted by several news outlets (Jan. 18, 2013)
I can create a Neanderthal baby, if I can find a willing woman.
—FoxNews.com's initial distortion of George Church's comments to German publication Der Spiegel on the technological reality of eventually cloning a Neanderthal (Jan. 21, 2013)
We will respond to the threat of climate change, knowing that our...
—Barack Obama, in his inaugural address marking the start of his second term as President of the United States (Jan. 21, 2013)
We are a plague on the Earth. It's coming home to roost over the next 50 years or so. It's not just climate change; it's sheer space, places to grow food for this enormous horde. Either we limit our population growth or the natural world will do it for us, and the natural world is doing it for us right now.
—Famed naturalist Sir David Attenborough, in an interview for Radio Times (Jan. 22, 2013)
So as 2013 begins, it is clear that critical times lie ahead for the publishing of clinical trials, which may define the relationship between pharmaceutical companies and the public for many years to come.
— The PLOS Medicine Editors, in a recent editorial about making future clinical trials more transparent (January 2013)
What really worries me is that it is so hard for virtually anyone to truly act as if there is no free will. And that this can have some pretty bad consequences. . . . But if you devote your time instead to thinking about what the brain, hormones, genes, evolution, childhood, fetal environment, and so on, have to do with behavior, as I do, it seems simply impossible to think that there is free will.
—Stanford University neuroscientist Robert Sapolsky, answering Edge.org's Annual Question for 2013: "What *should* we be worried about?" (January 13, 2013)
Interested in reading more?
Become a Member of
Receive full access to digital editions of The Scientist, as well as TS Digest, feature stories, more than 35 years of archives, and much more!