SWAMPED: Cars piled on top of each other at the entrance to a garage in Lower Manhattan the day after Hurricane Sandy hit New York City and surrounding areas© STAN HONDA/AFP/GETTY IMAGES
Our climate is changing. And while the increase in extreme weather we have experienced in New York City and around the world may or may not be the result of it, the risk that it might be—given this week's devastation—should compel all elected leaders to take immediate action.
—New York City mayor Michael Bloomberg, in an entry posted on his website in the wake of Hurricane Sandy (Nov. 1, 2012)
The faculty were in waders, wandering through the fetid waters,
rescuing freezer specimens and animal cages.
—Johns Hopkins researcher Stephen Baylin, describing how Hurricane Sandy affected the university's Cancer Center. ("An Epi Phenomenon," The Scientist, Dec. 2012)
You can convince...
—Marian Stamp Dawkins, Oxford University animal behaviorist and author of Why Animals Matter, on the importance of using scientific evidence when legislating animal welfare policies (Edge, Oct. 31, 2012)
Having an Obama administration versus a Romney administration may lead to some differences, but for the most part, I think things haven't changed much from where they were a week ago.
—Matt Hourihan, R&D and policy program director,
American Association for the Advancement of Science, on the outlook for federal science funding following the US Presidential election (LiveScience, Nov. 8, 2012)
The first primate nouns were almost certainly those embedded in calls that meant, "Oh shit, big cat!" "Oh shit, giant eagle!" or "For the love of god, did you see the size of that snake?" In this way, predators may have had a positive impact on who we are now, having given us the precursors of language, or at the very least, cussing.
—North Carolina State University biologist Rob Dunn, discussing
the evolutionary legacy of our ancestors' fight-or-flight response
(Slate, Oct. 15, 2012)
We don't feel our interests are being best served by an anti-science fundamentalist representing us on the Science, Space and Technology Committee.
—University of Georgia plant biology professor Jim Leebens-Mack, on the write-in campaign for Charles Darwin (the father of evolutionary theory received 4,000 votes) he helped organize in an uncontested election of Georgia Congressman Paul Broun (Reuters, Nov. 12, 2012)




Interested in reading more?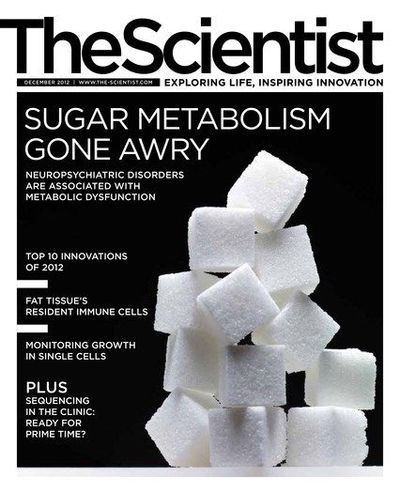 Become a Member of
Receive full access to digital editions of The Scientist, as well as TS Digest, feature stories, more than 35 years of archives, and much more!