ISTOCKPHOTO.COM, ARTPIPI
We cannot say there would be no benefits at all from studying the virus. We respect the researchers' desire to protect public health. But the consequences, should the virus escape, are too devastating to risk.
—A New York Times editorial recommending against publication of data that describe mutating the H5N1, or bird flu, virus so that it passes from mammal to mammal (Jan. 7, 2012)
It's all about predicting what will hit you next. We want to predict earthquakes and tsunamis; we also want to predict what will happen with the bird flu virus. This work needed to be done.
—Virologist Ron Fouchier, who led the research team that produced a variant of bird flu that passed between ferrets, prompting a US federal advisory committee to recommend a voluntary moratorium on publishing the results (Los Angeles Times, Dec. 26, 2011)
Science,...
—Philosopher Massimo Pigliucci, in his review of Biology and Ideology: From Descartes to Dawkins (Rationally Speaking, Dec. 14, 2011)
When we try to explain acts of human cruelty, there is no scientific value in the term "evil" but there is scientific value in using the term "empathy erosion.". . .When people commit acts of cruelty, a specific circuit in the brain ("the empathy circuit") goes down.
—University of Cambridge psychologist Simon Baron-Cohen, in an essay spun off from his new book The Science of Evil: On Empathy and the Origins of Cruelty (The Montréal Review, Oct. 2011)
The very same reason why chimpanzees are biomedically important, they are so like us, offers excellent moral reasons against their use.
—Primate researcher Frans de Waal of Emory University in Atlanta, on the US Institute of Medicine study recommending stringent limits on the use of chimps in biomedical research (USA Today, Dec. 16, 2011)
Over the past few decades, India's position in the world of science has been declining and we have been overtaken by countries like China. Things are changing but we cannot be satisfied with what has been achieved. We need to do much more to change the fate of Indian science.
—Indian Prime Minister Manmohan Singh, announcing a pledge to more than double government spending on research and development over the next 5 years (ScienceInsider, Jan. 4, 2012)
Interested in reading more?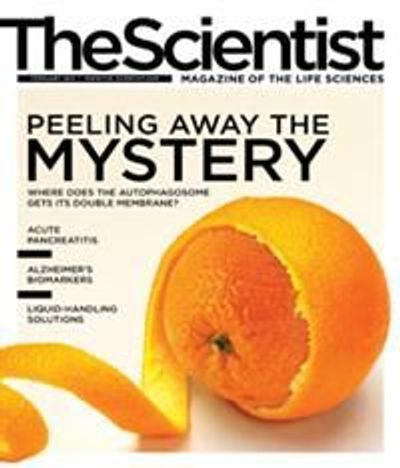 Become a Member of
Receive full access to digital editions of The Scientist, as well as TS Digest, feature stories, more than 35 years of archives, and much more!