The powedery impression left by what was probably a young tawny owl on the window of Sally Arnold's Cumbrian home in the UK. The bird apparently flew away unharmed.RSPB / SALLY ARNOLD
We don't very often see an imprint of a bird that's flown into a window that's this clear and where it's pretty obvious exactly what kind of bird it is.
—Val Osborne, head of the UK's Royal Society for the Protection of Birds wildlife inquiries team (BBC News, July 11, 2001)

Scientists rarely become billionaires, but they have discovered a vast source of a different kind of wealth. The wealth is the treasure of discovery. The endless pleasure of asking questions and seeking answers—and it is there for the taking.
—Biomolecular engineer David Deamer, in the introduction to his new book,First Life: Discovering the Connections between Stars, Cells, and How Life Began...
They can pass information from parent to progeny, they can mutate. They can win or die. The molecules are doing it all. We're just keeping the lights on.
—Biologist Gerald F. Joyce, quoted in a New York Times article about his work creating molecules that can evolve (July 27, 2011)

Giving ideologues or partisans scientific data that's relevant to their beliefs is like unleashing them in the motivated-reasoning equivalent of a candy store.
—Science writer Chris Mooney, in his article "The Science of Why We Don't Believe Science" (Mother Jones, May/June 2011)

If cellphone radiation is causing cancer, it is doing so through a mechanism that defies our current understanding of carcinogenesis.
—Oncologist Siddhartha Mukherjee, in a New York Times opinion piece on the challenge of patrolling the world for carcinogenic substances (July 17, 2011)

We are slowly, as I've written many times before, moving to post-publication peer review where the scientific community judges what matters—not bewigged and gathered in one elegant room as in the 18th century but connected globally through the internet.
—Former BMJ editor Richard Smith, writing on the journal's blog about scientific journals going the way of newspapers in the new media environment (July 26, 2011)
Interested in reading more?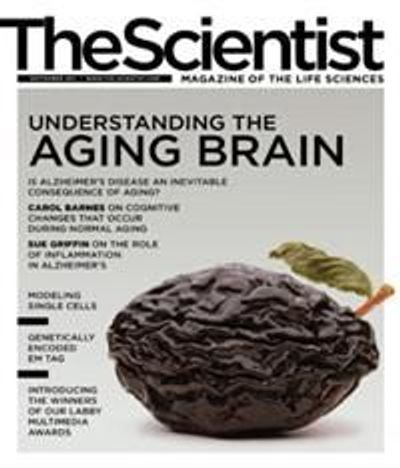 Become a Member of
Receive full access to digital editions of The Scientist, as well as TS Digest, feature stories, more than 35 years of archives, and much more!