Click the puzzle for a full-size versionEMILY COX AND HENRY RATHVON
The organ looked like an overripe melon smashed by a sledgehammer, and was bleeding extensively. How could a gunshot wound have caused this much damage?
—Heather Sher, a radiologist in Broward County, Florida, writing in The Atlantic about treating victims from Marjory Stoneman Douglas High School who were shot with an AR-15 semiautomatic rifle (February 22)
Americans are more likely to die from a gunshot than from skin cancer or stomach cancer.
—Statistics published in The Week after the mass shooting at Marjory Stoneman
Douglas High School in Florida, where 17 people, including children,
were killed (February 15)
ACROSS
1. Student of optometry?
Prevention is key!LUIZA AUGUSTO
4. Movement through a membrane
8. Stinky mammal not really a feline
9. When a kiwi flies
10. Trees with some slippery members
11. Cyclotron inventor Ernest...
DOWN
1. Cocoon dwellers
2. Observatory operated by Caltech
3. What Scots call an inlet
4. Involving bones or skeletons
5. Growth in a brackish "swamp"
6. Number of human cervical vertebrae
7. Procedure once performed by barbers
12. Weasel, marten, mink, or wolverine
13. With 17-Across, marine explorer and pioneer of the Aqua-Lung (2 words)
15. Study of the structure of organisms and their parts
16. Array of numbers, as in a grid
18. Celestial shadow
20. Language of origin of "pterodactyl"
21. Hue of a salmon, often

Click here for answer key.
Interested in reading more?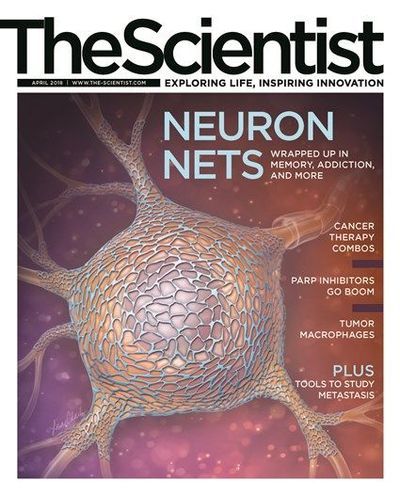 Become a Member of
Receive full access to digital editions of The Scientist, as well as TS Digest, feature stories, more than 35 years of archives, and much more!