Click the puzzle for a full-size version.EMILY COX AND HENRY RATHVON
Botany is the art of insulting flowers in Latin and Greek.
—French journalist, novelist, and horticulturist Alphonse Karr (1808-1890), for whom several plant species were named, as quoted in the 1960 book Les noms de plantes
The climate problem is the most important problem we currently have on this planet. Given all the arguments that people have against genetically engineering plants combined with the urgency of the problem, should we use this engineering?
—Salk Institute plant biologist Wolfgang Busch, whose group is researching ways to edit plant genomes to store more carbon and weather drier, hotter climatic conditions, speaking with San Diego State University public broadcaster KPBS (January 3)
ACROSS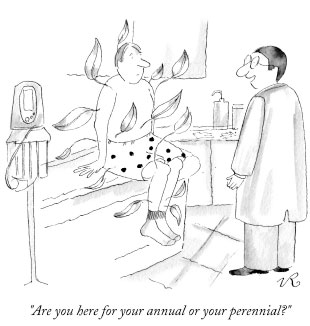 © Victoria Roberts/The New Yorker Collection/The Cartoon Bank7. Largest member of the oceanic dolphin family
8. Nitrogenous substance once thought to cause...
DOWN
1. Living high, like lemurs and sloths
2. Layer between a planet's core and crust
3. Kind of predator 7 Across or 5 Down
represents
4. Musca domestica
5. Cat spotted in rainforests
6. Andean speaker of Quechua
12. Connected with snakes
14. Symptom of 17 Across
16. Descriptor of an ancient mammoth
18. Geologic spans larger than ages
20. Exfoliation treatment in a spa
21. Having no hair apparent?

Click here for answer key.
Interested in reading more?
Become a Member of
Receive full access to digital editions of The Scientist, as well as TS Digest, feature stories, more than 35 years of archives, and much more!