Note: The answer grid will include every letter of
the alphabet. Click on the puzzle for a full-size version.BY EMILY COX AND HENRY RATHVON
Trying to manage the research community, many people have concluded, is really like herding cats. And it is like herding cats, but guess what? I've got a big bag of cat food—it's called the NIH budget.
—National Institutes of Health Director Francis Collins, on the challenges of getting researchers to share data, during a Q&A session at the recent annual meeting of the American Society of Human Genetics (October 18)
We have got to get beyond this point of stifling science, of muzzling good science, and speak to the facts as they are. This shouldn't be about a Democratic or Republican issue. It's about protecting the planet.
—Representative Jim Langevin (D-RI), speaking about the Trump administration's recent decision to prevent scientists from...
ACROSS

© JONNY HAWKINS1. With 27-Across, a pioneer in DNA research
(2 words)
5. Notable feature of great whites
9. Shade for a panther
10. "I went to the woods because I wished to live
deliberately" author
11. Possible source of mother of pearl
12. One cubic decimeter
14. Like a harvest moon in hue
16. Age of human history
19. First name in radium research
21. Chipped flint from the Tertiary Period
24. Lepidopterist who also wrote fiction
25. Glassware brand found in many a lab
26. Sasquatch's Asian cousin
27. See 1-Across

DOWN
1. Color of the throat of some hummingbirds
2. Shoulder blade
3. Bodies studied by limnologists
4. Urtica stinger
6. Producer of a reaction; catalyst
7. Mammal whose name means "shadow-tailed"
8. Catkin-bearing tree
13. State of hibernation or inactivity
15. Hippocrates and Galen, e.g.
17. Word preceding selection and disaster
18. Dweller in a lodge
20. Subject of three Asimovian laws
22. Rabbit, to Lamarck
23. Transmitter of neural impulses

Click here for answer key.
Interested in reading more?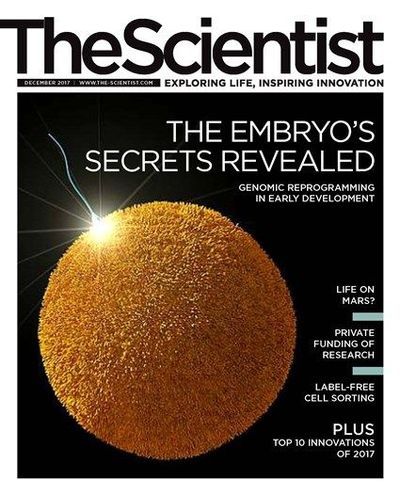 Become a Member of
Receive full access to digital editions of The Scientist, as well as TS Digest, feature stories, more than 35 years of archives, and much more!