Take a break from the bench to puzzle and peruse.
Click the puzzle for a full-size, interactive version.
Note: The answer grid will include every letter of the alphabet.
by Emily Cox and Henry Rathvon
This study opens the door to extraordinary new means of human collaboration while, at the same time, blurring fundamental notions about individual identity and autonomy in disconcerting ways.

—Robert Martone, a neuroscientist at biotech company Biogen, writing in Scientific American

about a recently published

study

, in which he was not involved, that reported making noninvasive connections among three human brains, resulting in direct brain-to-brain communication (October 29)
Researchers need community because good ideas don't just come from reading literature and thinking deep thoughts; it's helpful to bounce ideas off others, particularly in a nonthreatening environment.

—Vivienne Tam, a McGill University PhD student who is currently working at the University of Strasbourg in France, writing in

Science

about the importance of scientists taking...
ACROSS
1. Pinaceae member suitable for Yule decor
4. Where Ammon, Moab, and Edom once thrived
8. Indigestible but useful carbohydrate
9. Resembling a major felid
10. Reptilian striker, for short
11. Sense apparently lacking in dolphins
12. Ubiquinone by another name (2 wds.)
17. Jumping spiders' typical eye allotment
19. Small, yellowish, pestilent type of ant
21. Skeletal part in front, not back
22. Warble, as from a skylark
23. Crescent-shaped tool or bone
24. Small prominence at the opening of the outer ear
DOWN
1. Venture for students of wildlife
2. Operating as an android
3. Marine secreter of calcium carbonate
5. Marsupial endemic to the Americas
6. Word after hard, sex, or Zip
7. Four-sided feature of 1-Across
9. Anxiety-reducing drug sold as Ativan
13. What Chicxulub made many species
14. Adjective attached to aspens
15. Kin to the polecat and mink
16. Makeup of a pod
18. Gray tree frog's color, at times
20. Flower named for the shape of its cluster
Luiza Augusto
Interested in reading more?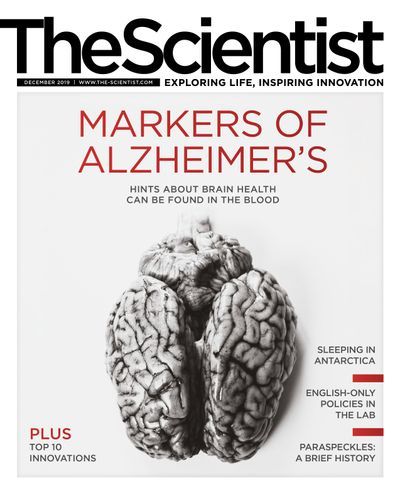 Become a Member of
Receive full access to digital editions of The Scientist, as well as TS Digest, feature stories, more than 35 years of archives, and much more!