Over the last decade the traditional toolset used to characterize RNA function has expanded. Approaches have been identified that enable the rapid detection, localization, and quantification of RNA on a subcellular basis. The Scientist brings together a panel of experts to discuss emerging technologies to detect RNA and analyze its function. Topics to be covered include the identification and characterization of long non-coding RNAs, RNA detection with single-molecule FISH (fluorescence in situ hybridization), and single molecule RNA FISH followed by flow cytometry. Attendees will have an opportunity to interact with the experts, ask questions, and seek advice on topics that are related to their research.
Meet the Speakers:
Dr. Loyal Goff
Assistant Professor of Neuroscience
McKusick-Nathans Institute of Genetic Medicine
Johns Hopkins School of Medicine
Dr. Robert Spitale
Assistant Professor
Pharmaceutical Sciences
University of California, Irvine
Dr. Sanjay Tyagi
Professor of Medicine
Public Health Research Institute
New Jersey...
Interested in reading more?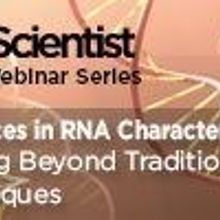 The Scientist ARCHIVES
Become a Member of
Receive full access to more than 35 years of archives, as well as TS Digest, digital editions of The Scientist, feature stories, and much more!