Conventional PCR has been widely adapted as a reliable way to quantify nucleic acids. Next-generation PCR techniques are emerging offering higher sensitivity and greater reproducibility. The Scientist brings together a panel of experts to discuss advances in quantitative PCR and emerging technologies, including digital PCR. Topics to be covered include tips for sample preparation, strategies for experimental setup, as well as considerations for data analysis and normalization. Attendees will have an opportunity to interact with the experts, ask questions and seek advice on topics that are unique to their research.
Meet the Speakers:
Dr. Jim Huggett
Principal Scientist
Nucleic Acid Research
LGC, United Kingdom
Dr. Andrew T. Ludlow
Postdoctoral Research Fellow
University of Texas Southwestern Medical Center
Dr. Jo Vandesompele
Professor
Ghent University, Belgium
CSO and co-founder
Biogazelle

Interested in reading more?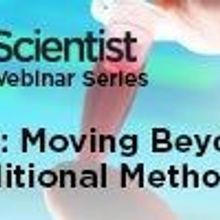 The Scientist ARCHIVES
Become a Member of
Receive full access to more than 35 years of archives, as well as TS Digest, digital editions of The Scientist, feature stories, and much more!