Courtesy of Qiagen
Looking for a way to isolate a nucleic acid and don't know where to start? The availability of options is the least of your worries. Whatever your particular sample source, throughput requirement, or scale, odds are good that somebody has a system available to help.
The sea of options is vast, and lucrative. Analysts predict that the rapidly growing nucleic acid isolation market may generate revenues reaching nearly $500 million by 2009.1 According to Frost & Sullivan, a market consulting firm, the development of the molecular diagnostics market, coupled with the growing number of sequencing and functional genomics initiatives, has fueled the considerable expansion of this marketplace, especially with burgeoning academic and pharmaceutical interest in RNA. Market researchers also note that genomic DNA and plasmid isolation kits are among the most commonly purchased.
Traditional protocols with their effective, albeit slow, organic extraction steps have largely been...
ACTIVE MOTIF http://www.activemotif.com
Active Motif's Nautilus™ product line includes kits to isolate plasmid and bacterial artificial chromosome DNA, as well as genomic DNA from blood, cell cultures, bacterial cultures, and tissues. The company also offers the Fenozol™ kit to isolate total RNA, and the mTRAP™ kit for messenger RNA.
AGENCOURT BIOSCIENCES http://www.agencourt.com
Agencourt caters to high-throughput labs with its high-performance Solid Phase Reversible Immobilization (SPRI) product line. The key to SPRI: paramagnetic beads that bind plasmid DNA, eliminating the need for centrifugation or vacuum filtration steps. Options include the SprintPrep™ kit, for high-copy-number nucleic acids, and CosMCPrep™, for both high- and low-copy-number plasmids, bacterial artificial chromosomes, and so on.
AMBION http://www.ambion.com
Ambion bills itself as "The RNA Company," and its product line reflects that fact. In addition to a variety of isolation kits for total and messenger RNA, the company offers such accessories as a plant RNA isolation aid and RNAlater®-ICE, which preserves RNA in frozen tissue samples as they thaw.
AMERSHAM BIOSCIENCES http://www.amershambiosciences.com
Amersham Biosciences offers purification kits for genomic and plasmid DNA, and for total and messenger RNA. The Quick Prep™ Micro mRNA purification kit can squeeze mRNA out of a single eukaryotic cell, while the Nucleon™ DNA extraction kits can isolate genomic DNA from blood or cultured cells, plants, or from paraffin-embedded or hard tissue samples.
APPLIED BIOSYSTEMS http://www.appliedbiosystems.com
Best known for its instrumentation, Applied Biosystems produces genomic DNA isolation kits, too. The company's NucPrep™ chemistry enables the purification of DNA from plant and animal tissues, while BloodPrep™ processes whole blood or cultured cells. Both are optimized for use with Applied Biosystems' hardware.
ARCTURUS http://www.arctur.com
As a manufacturer of laser-capture microdissection instruments, Arcturus specializes in microgenomics, the molecular analysis of microscopic tissue samples. The company offers its PicoPure™ DNA and RNA isolation kits, which can isolate nucleic acids from a single cell.
BAY GENE http://www.baygene.com
Industry newcomer Bay Gene, founded in 2002, offers kits for purification of plasmid and genomic DNA, as well as total RNA. On the genomic DNA front, the company has kits to harvest nucleic acids from tissues, plants, blood, cultured cells, and bacteria. And, Bay Gene provides three levels of plasmid prep purity: rapid, ultra-pure, and endotoxin-free.
BECKMAN COULTER http://www.beckmancoulter.com
Beckman Coulter offers a series of high-throughput purification systems under Promega's Wizard® brand name. While the Wizard SV 96 system uses a series of transfer steps to effect purification, the Wizard MagneSil™ system uses paramagnetic beads, obviating the need for transfer, centrifugation, and vacuum filtration steps.
BD BIOSCIENCES CLONTECH http://www.clontech.com
Clontech offers a variety of products that vary by sample source and intended application. Sequencing-grade plasmid? Try the NucleoSpin Plus plasmid kit. But for transfections, the company recommends its NucleoBond product line. Other kits are available, including options for tissue and cell cultures, plants, and blood, and for purification of total and messenger RNA.
BIO-RAD LABORATORIES http://www.bio-rad.com
Bio-Rad offers a wide range of products for DNA and RNA isolation. The company's product line includes the AquaPure™ kits, for purification of genomic DNA and total RNA, and the Aurum™ system, which includes kits for plasmid and RNA purification. Aurum employs a binary system of stacked microtiter plates that minimizes sample handling, combines lysate filtration and plasmid binding in a single step, and works with both manual and automated methods.
DYNAL BIOTECH http://www.dynalbiotech.com
Dynal's product line features Dynabeads®, whose superparamagnetic properties ease sample purification. Offerings include kits to isolate mRNA from lysates, whole blood, or total RNA, plus kits to purify genomic DNA.
EDGE BIOSYSTEMS http://www.edgebio.com
Edge's product portfolio includes products for DNA purification. In addition to a bacterial genomic DNA isolation kit, the company offers a series of high-throughput plasmid miniprep kits. Designed for use in special "growth block" microtiter plates, the Plasmid 96 miniprep kit uses alkaline lysis chemistry to effect purification.
EPICENTRE http://www.epicentre.com
Epicentre's product line includes MasterPure™ isolation kits for DNA and RNA from yeast, blood, plant leaves, tissues, and buccal swab samples. The SoilMaster™ kit is available for extracting PCR-ready DNA from soil.
EPPENDORF http://www.eppendorf.com
Eppendorf brands many of its nucleic acid isolation kits using the adjective perfect; the plasmid miniprep kits are called Perfect-prep®, and the RNA isolation kits, Perfect RNA®. Eppendorf also offers other superlatives: The Fastplasmid™ plasmid isolation kits can isolate plasmid DNA in just nine minutes.
GENTRA SYSTEMS http://www.gentra.com
Gentra Systems' line of DNA and RNA purification kits includes PUREGENE® and PURESCRIPT® kits for purification of DNA and RNA respectively. Also offered, the company's GENERATION® DNA purification systems and new VERSAGENE® RNA purification kit. VERSAGENE isolates total RNA from cultured cells or tissues at room temperature without organic solvents.
GENOVISION http://www.genovision.com
GenoVision, a Qiagen company that focuses on histocompatibility antigen typing, offers the GenoM™-6 instrument for automated nucleic acid isolation and purification. The system employs GenoPrep™ cartridges preloaded with all the reagents necessary to isolate DNA from blood.
INVITROGEN http://www.invitrogen.com
Invitrogen's product portfolio includes kits for isolation of total and messenger RNA, as well as plasmid preparation. On the RNA front, the company offers everything from TRIzol® reagent to the FastTrack® 2.0 mRNA isolation kit. For DNA, Invitrogen offers the S.N.A.P.™ miniprep kit for purification of sequencing-quality nucleic acids, PureLink™ for transfection-quality DNA, and more.
MACCONNELL RESEARCH http://www.macconnell.com
MacConnell Research's motto is "Making manual mini preps a thing of the past," and the company offers two systems to make that possible. The Mini-Prep-24 and MiniPrep-96 robots both purify plasmid DNA using special sample cassettes. The device lyses the cells, resolves the plasmid DNA through a pre-cast agarose gel onto a membrane, washes the membrane, and finally purifies the DNA by electroelution. The two machines differ in the number of preps performed per hour.
MARLIGEN BIOSCIENCES http://www.marligen.com
Marligen sells the products previously offered by Life Technologies under the CONCERT™ brand. The company also offers kits to purify total RNA, as well as plasmid prep systems based on either silica membrane or anion exchange chemistries (the latter produces higher-quality nucleic acids).
MILLIPORE http://www.millipore.com
Millipore's Montage™ Plasmid Miniprep96 kit and BAC96 Miniprep kit are designed for use with automated liquid handlers. The kits require no centrifugation or precipitation steps; instead, the protocol employs a series of filtration steps, aided by a vacuum manifold, to effect purification.
MO BIO LABORATORIES http://www.mobio.com
Mo Bio caters to all manner of nucleic acid isolation needs. In addition to a collection of Ultra-Clean™ plasmid prep kits, the company offers products for isolating DNA from soil, blood, tissues, plants, yeast, and water, as well as a kit for forensic labs. Mo Bio also offers a range of RNA isolation kits.
MOLECULAR RESEARCH CENTER http://www.mrcgene.com
MRC offers reagents for DNA and RNA isolation, based on reagents named DNAzol® and TRI Reagent®, respectively. The former is a guanidine-detergent formulation; the latter is a monophasic mixture of phenol and guanidine thiocyanate. DNAzol kits are available for cells, tissues, plants, whole blood, and bacteria; TRI Reagent kits exist for tissues, cells, and blood. According to MRC, the TRI reagent can be used to purify DNA, RNA, and protein simultaneously from a single sample.
NOVAGEN http://www.novagen.com
Novagen, part of EMD Biosciences, offers kits to purify plasmid DNA, genomic DNA (from bacteria and blood), and mRNA. The company's Straight A's™ mRNA isolation kits and Magprep™ genomic isolation kits employ magnetic beads, while its Mobius™ and Ultra-Mobius™ plasmid prep kits use alkaline lysis chemistry.
PROMEGA http://www.promega.com
Promega's portfolio includes products to isolate plasmid DNA, genomic DNA, and total and messenger RNA. Among the company's offerings, the PolyA-Tract® system 1000 uses magnetic beads to purify mRNA directly from cells or lysates. The company also offers Wizard® plasmid purification systems, such as those licensed to Beckman Coulter.
QBIOGENE http://www.qbiogene.com
Qbiogene, which acquired BIO 101 several years ago, offers a variety of plasmid prep kits that incorporate its subsidiary's GLASSMILK matrix, including the RapidPURE™ and RPM® kits. In addition, the company offers genomic DNA isolation kits such as the GNOME® and FLORACLEAN™ systems, as well as kits for isolation of total RNA.
QIAGEN http://www.qiagen.com
Qiagen supplies a wide array of kits for the isolation of plasmid and genomic DNA, as well as both total and messenger RNA. When it comes to plasmid preps, the company caters to every throughput and scale needed. Options range from the QIAfilter plasmid Giga kit (10 mg of DNA) to the micro R.E.A.L. Prep 384 plasmid kit (1.5 μg of DNA per well). The company offers three distinct levels of purity, from standard to ultrapure.
ROCHE APPLIED SCIENCE http://www.roche-applied-science.com
Roche Applied Science offers kits to isolate DNA and RNA. In the genomic DNA category, the company has kits to purify nucleic acids from mammalian tissues, cultured cells, bacteria, yeast, plant tissues, and blood. Its MagNA Pure line uses magnetic beads to ease purification steps. Roche also provides kits to isolate plasmid DNA and total and messenger RNA.
SIGMA-ALDRICH http://www.sigmaaldrich.com
Chemical giant Sigma-Aldrich offers a range of systems for genomic and plasmid DNA, as well as total and messenger RNA. Most of the kits are sold under the GenElute™ brand name, but the company also provides Extract-N-Amp™ systems for PCR-ready nucleic acid extraction.
STRATAGENE http://www.stratagene.com
Stratagene's product portfolio includes kits for plasmid DNA and total RNA isolation. The StrataPrep® plasmid miniprep and StrataPrep EF plasmid midiprep kits use alkaline lysis and a nucleic acid-binding matrix to effect purification. The Absolutely RNA® purification kits isolate total RNA.
ZYMO RESEARCH http://www.zymoresearch.com
Zymo offers a range of kits for DNA and RNA isolation. Examples include the YeaStar Genomic DNA isolation kit, for use with yeast, and the Pinpoint Slide DNA isolation system, for use in collecting DNA from a specific region of a microscopic slide. The company offers a similar kit, the Pinpoint Slide RNA isolation system, for RNA recovery from a microscopic slide, as well as a variety of plasmid miniprep systems.
Interested in reading more?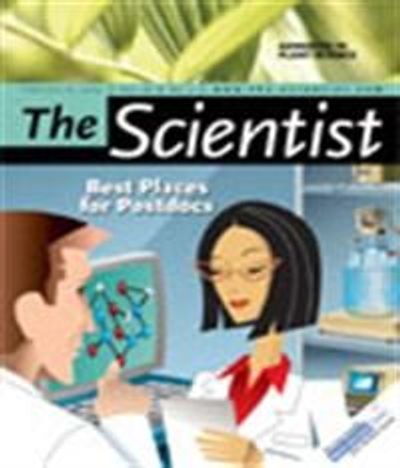 Become a Member of
Receive full access to digital editions of The Scientist, as well as TS Digest, feature stories, more than 35 years of archives, and much more!