Courtesy of Pierce Biotechnology
It is a lament heard in labs everywhere, usually on Friday nights: "I can't go out, I've got to run a gel." Whether you are a postdoc, technician, or full-fledged professor, chances are good you've said this at one time or another.
Precast gels won't make that sense of responsibility go away, of course. But they do make the electrophoretic process a bit simpler, their manufacturers say, and much more reproducible.
Available in a dizzying array of formats and sizes, precast gels come in two basic forms, polyacrylamide and agarose, and serve two basic applications: protein separation and DNA separation. Polyacrylamide gels typically are used for protein separation, though they can be used for DNA work with the right buffer, whereas agarose gels are used for nucleic acid studies. Both types generally are available in a range of gel percentages (which affects the gel's resolving power),...
TROUBLE WITH 2D GELS
The surge in precast gels is occurring in spite of their cost. Precast gels are three to five times more expensive than the old-school version, says Soumitra Basu, senior research manager for proteomics at the University of Pittsburgh's Genomics and Proteomics Core Laboratories. But, once you take time into account, Basu estimates the cost difference is more like two-fold.
Prices are fairly uniform across the market, with precast gels hovering around the $9–$10 range. Montreal-based Mirador DNA Design provides gels 1 mm thick with 10 wells at a variety of concentrations and gradients for $9 each, and it will do 17-well gels on demand as well as custom work. Cambrex in East Rutherford, NJ, charges $104 for a box of 10 PAGEr acrylamide gels, 10 cm × 10 cm, and Life Gels of Clarkston, Ga., charges $99.50 for a box of 10 LongLife Gels.
Though competition has forced the cost of precast gels down somewhat, "I think price is less of an issue than quality and reproducibility," says Robert Marchmont, global marketing director for 2D labeling and detection in gene and protein discovery for GE Healthcare of Chalfont St. Giles, UK.
Basu and his colleagues use precast gels from Bio-Rad Laboratories of Hercules, Calif., for 1D and 2D electrophoresis, as well as the company's gel apparatus, and he says they are happy with the results. Because his lab does a lot of protein identification, Basu notes, it's important that no stray proteins get shed into their gels, so the fact that precast gels require less hands-on interference is an important advantage.
Frank A. Witzmann of Indiana University School of Medicine's Department of Cellular and Integrative Physiology uses Bio-Rad's precast gels for all of his lab's 1D work. His gel rig is a bit older, though: He uses the IsoDalt running system from Pharmacia [now GE Healthcare], "a 25-year-old design that allows you to run 20 slab gels at a time, and gives you excellent reproducibility."
Witzmann says he's tried several brands of large-format 2D gels, including Bio-Rad's, but he still casts his own. "There are just simply no good reliable suppliers of those," he says. "They cost too much, they're not very reproducible from our experience, [and] in general the spot resolution is poor."
Another problem, he adds, is that it's best to produce a sample-specific gradient for 2D work. "Generally we've found suppliers will sell you a 12.5% gel and that's it." And while he and his colleagues prefer gels of 1.5 mm thickness, most precast products are available in only a 1-mm thickness.
"I think people who are really serious about 2D electrophoresis and large-format gels will continue to cast their own," says Rachel Ogorzalek Loo, a research chemist at the Andrews Research Laboratory at the University of Michigan. She and her colleagues exclusively use precast gels for their mass spectrometry work, which may involve running one or two gels a week, but Loo adds, "The biologists across the hall cast all their own gels, and I think they will continue to do that because there's a large cost savings."
LONG SHELF-LIFE
Loo prefers Invitrogen's NuPAGE gels for her work analyzing intact protein isolates. "Since they run at a lower pH you don't see acrylamide adducts. Ninety-nine percent of the time people don't necessarily care if they have acrylamide adducts, but if you want to measure full-length proteins, acrylamide adducts will give you a lot of heterogeneity." Another advantage of the NuPAGE gels, Loo notes, is their one-year shelf life, particularly for a lab like hers that doesn't run many gels.
Selected Precast Gel Suppliers
Bio-Rad Laboratories http://www.bio-rad.com
Biotech Holdings * Geluxhttp://www.biotechholdings.com
Continental Lab Productshttp://www.clpdirect.com
Crescent Chemical Companyhttp://www.crescentchemical.com
Elchrom Scientifichttp://www.elchrom.com
Cambrex http://www.cambrex.com
Embi Tec http://www.embitec.com
GE Healthcare http://www.amershambiosciences.com
The Gel Companyhttp://www.gelcompany.com
Genomic Solutionshttp://www.genomicsolutions.com
Invitrogen http://www.invitrogen.com
ISC BioExpresshttp://www.bioexpress.com
Jule Biotechnologieshttp://www.precastgels.com
Life Gels http://www.life-gels.com
Mirador DNA Design http://www.mirador.ca
Pierce Biotechnologyhttp://www.piercenet.com
Servahttp://www.serva.de
Sigma-Aldrichhttp://www.sigmaaldrich.com
Stratagenehttp://www.stratagene.com
Mirador has entered the market with its own long-lived, acrylamide gel product. The company's SoftGels can be used for both protein and DNA work, have a one-year shelf life, and are compatible with most minigel electrophoresis rigs. The company also offers a range of premade running and loading buffers, and plans to launch a series of agarose gels this summer as well as a product-specific electrophoresis chamber by the end of the year. The response, says CEO Pierre Sevigny, has been excellent.
Sevigny says Mirador's gel cassettes can be opened "just like pulling two Post-its off a pad," requiring no tools beyond a pair of hands, and use five-times less plastic than standard cassettes. There is no comb or tape to remove, and according to Sevigny the gels are less likely to break than those requiring a more involved opening method.
Researchers working in the field say they haven't seen dramatic innovations in precast gel technology, but companies seem to be quietly refining their offerings and may provide products that aren't listed in their catalogs.
San Diego-based Embi Tec has been developing an increasing number of preparative gels with loading volumes of 35 to 80 microliters, for instance, many of which are not featured in the company's catalog, says Richard Chan, the company's president. Embi Tec makes horizontal acrylamide and agarose gels for DNA analysis that work with its One Run Electrophoresis System, a compact, self-contained unit with its own power supply.
Embi Tec gels are also compatible with Bio-Rad and Owl systems, and come in a wide range of sizes, shapes, concentrations, gradients, and well configurations. Agarose gels can be purchased with TAE (Tris-acetate-EDTA) or TBE (Tris-borate-EDTA) buffers, with or without ethidium bromide stain. MOPS (3-[N-morpholino] propanesulfonic acid) buffer is offered with some configurations as well.
"We probably have the largest, widest selection of gels," says Chan, who adds that the company typically ships orders out the same day with next-day shipping. Cambrex also offers precast acrylamide and agarose gels in a variety of well configurations, concentrations, and gradients.
BREAKING INTO 2D
Marchmont says GE Healthcare's 2D platforms, including Ettan DALT, are becoming the "gold standard" for 2D electrophoresis. GE Healthcare acquired these product lines when it purchased Amersham Biosciences in 2004. The company is developing a second-generation of low-fluorescence Ettan DALT precast gels that Marchmont says will surpass the original in terms of quality and reproducibility.
GE is also looking to develop a 2D minigel system, Marchmont says, and is continually working to improve the quality of the company's large-format precast 2D gels. Invitrogen, too, is hoping its ZOOM Benchtop Proteomics system will persuade more researchers to use precast gels for 2D applications.
The ZOOM system's minigel format uses 60% less buffer than standard 2D gels and can run experiments in five hours. The entire apparatus is currently priced at $765, or $2,000 with an inexpensive power source. Other commercial precast 2D gel systems can cost upwards of $40,000, says Butler.
Invitrogen also focuses on the first dimension of 2D electrophoresis. In the past year, for instance, the company has introduced several narrow-range IPG strips to improve resolution in particular pH ranges; it has also produced a unique basic strip. The company also offers an IEF (isoelectric focusing) Fractionator system that is used to reduce sample complexity and enrich low-abundance proteins for analysis with 1D or 2D electrophoresis or mass spectrometry. "It no longer requires the ability to be an artist," says Butler. "Now it's just a matter of an easy protocol." That said, though Witzmann uses the ZOOM-IEF system for pre-fractionating, he remains adamant that the precast gels that come along with the system are no substitute for the hand-cast version.
The growth of the precast gel market shows that the long-predicted death of electrophoresis isn't happening any time soon, Marchmont observes. "I've been at a number of conferences over the last 15 years where the demise of 2D gel electrophoresis in particular has been forecast, and it's just not happening. It still is probably the most powerful protein-separation technique, and therefore it has a very strong future going forward despite its age."
Interested in reading more?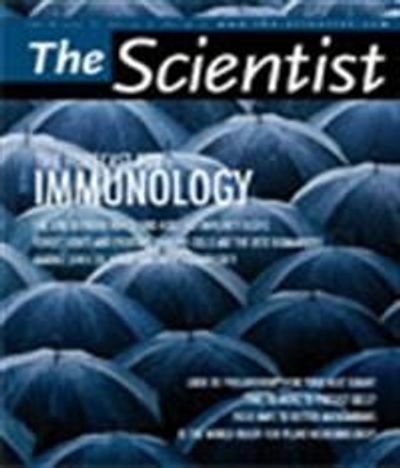 Become a Member of
Receive full access to digital editions of The Scientist, as well as TS Digest, feature stories, more than 35 years of archives, and much more!