When the next outbreak of severe acute respiratory syndrome (SARS) will emerge is anyone's guess. But three years after first identifying the disease (in November 2002), researchers are still trying to determine the most effective SARS assays, while also working to develop the next generation of tests. "We're still in the process of evaluating the tests," says James Mahony of McMaster University in Hamilton, Ontario, who has coauthored a series of papers comparing different SARS assays. "We're starting to get a feel for how they perform."
Health officials initially diagnosed the illness based on symptoms and travel history. By May 2003, researchers had identified a novel coronavirus as the disease's probable culprit, and two independent groups had sequenced it. In the process they developed two types of rapid diagnostic assay for the virus, a serologic test (which tests for the presence of anti-SARS antibodies in the patient's blood) and a...
THE NEXT GENERATION
The small number of North American SARS cases means public health labs lack extensive clinical samples for assay control and validation. Zeptometrix, based in Buffalo, NY, offers neutralized, refrigerator-stable virus particles for PCR controls and recombinant goat-human antibodies as serologic controls. These chimeric antibodies are safer than human antiserum, because they are not derived from infected patients, says Greg Chiklis, the company's vice president of research and development.
"We're hoping to explore that as a way of replacing this precious limited supply of human antisera," says Dean Erdman, team leader of the CDC's respiratory virus diagnostic group. CDC researchers are working on a recombinant SARS antigen that would replace the whole virus in serologic tests, he adds, but they have to deal with the potential for cross-reactivity.
Investigators are also pursuing multiplexed assays that can quickly rule out other respiratory viruses. "It would make testing much more efficient," says David Warshauer, deputy director of the communicable disease division at the Wisconsin State Lab of Hygiene in Madison. One promising approach, being developed by companies such as EraGen, uses multiplexed bead technology.
"I like that technology," says Erdman. "It has a wide range of applications; it's tried and true." The US Food and Drug Administration has already approved xMAP technology from Luminex of Austin, Texas, for screening cystic fibrosis, says Mahony, so it may have an edge on microarrays. Mahony is evaluating several multiplexed respiratory virus assays, and expects more such tests to be available in the next two years.
Three years after the SARS outbreak began, "we're in a much better position," says Mahony. Investigators know the disease agent and where to find it in the body, and have multiple tests for detecting it, he says. "We'll be prepared for the next outbreak." Whether that will occur this year, however, remains to be seen.
Interested in reading more?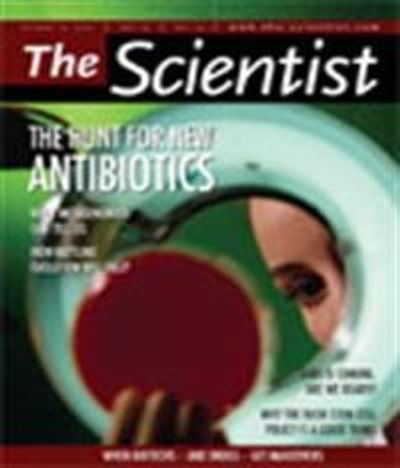 Become a Member of
Receive full access to digital editions of The Scientist, as well as TS Digest, feature stories, more than 35 years of archives, and much more!