Courtesy of Cambridge Scientific Products
Last month Ron Smock, owner of Drug Detection Services, a forensic and criminalistic testing facility in Albuquerque, NM, posted this auction on eBay:
Thermoquest GCQ GC/MS/MS in great condition. New controller box and turbo. Complete with computer and software. MANY accessories included, including reagent gas. Terrific system for trace analysis work. Autosampler available at additional cost. Used 3 years. Original price $65,000. Asking price $18,000 or best offer.
If the idea of buying a mass spectrometer on eBay seems laughable, it is hardly unique. eBay lists more than 19,000 items in its "Healthcare, Lab & Life Science" category. Some auctions will find buyers, others will not.
While Smock's auction for the mass spectrometer failed to elicit any bids, the market for used and refurbished lab equipment is clearly growing. Once considered a shady business, secondhand equipment suppliers are now setting high standards for not only...
NEW LIFE FOR THE OLD
Many secondhand distributors stock their shelves by purchasing discounted merchandise direct from manufacturers. They also buy equipment from failing biotechs and big pharmaceutical companies that are consolidating their labs. Some dealers choose to purchase the entirety of a company's capital assets for a better deal, while others pick and choose equipment according to its condition and marketability. "All the used equipment that I buy has to be of very high quality," says Gaston, who often travels around the country to inspect items that he's considering. "By walking around the lab, I get a sense of how they took care of their equipment."
Rather than buying equipment outright some dealers will consider alternative transactions. Some companies, such as Cambridge Scientific Products in Cambridge, Mass., will consider trading your old equipment for credit toward newer equipment. Others, such as Best Lab Deals in Raleigh, NC, accept used equipment on consignment and receive a commission based on the sales price. This type of service, says Dan McCormick, the company's marketing director, gives labs an outlet to recoup the cost of equipment they're no longer using or for which they don't have storage space.
"This type of equipment used to be relegated to the back closet," McCormick says. "What we've brought to the table is an alternative to things just literally being thrown away, and an opportunity for researchers to recover their investment." The dealers won't accept just anything, though. "Many times we're not interested in the equipment because it's too old or can't be serviced, or it doesn't represent a good value for our customers," says Richard Civitate, president of Scientific Equipment Exchange of San Diego.
Old doesn't necessarily preclude a sale. Basic equipment, such as incubators, icemakers, refrigerators, and centrifuges, are less likely to become obsolete and usually maintain healthy resale values. "When companies upgrade their older equipment, then it's a good opportunity for us," says Civitate, whose company, like most other dealers, requires that you thoroughly decontaminate and clean the equipment that you're selling. Besides age, dealers also consider their current inventory and the investment they'll have to make for repairs and refurbishing against what customers would be willing to pay for the item.
SOME SOAP AND SCRUB
Images courtesy of Cambridge Scientific Products and LabTrader Scientific Equipment
Once the equipment arrives in dealers' warehouses, the makeover begins. Technicians usually run tests to identify needed repairs and calibration. A thermal cycler, for example, would have technicians checking how the temperature ramps up and down, and running through the manufacturer's self-diagnostics, Gaston explains.
At LabTrader, the refurbishing process also involves a cleaning and other sprucing up before the item is ready for customers. If the previous owner didn't provide the user's manual, technicians retrieve it from the Internet and put it together with the item in a box so that it looks "brand new," he says. "The preventive maintenance we do makes sure that it's perfect."
The level of restoration work varies among companies. While some do minimal cosmetic touchups, others go as far as painting over scratches or other blemishes and hammering out dents. The extent of cosmetic work also depends upon the type of equipment, says Civitate, who founded Scientific Equipment Exchange after years of selling new lab equipment and hearing his customers' interest in both buying and selling used equipment. But, he adds, "Some customers don't care about cosmetics."
MORE FOR YOUR MONEY
Ayesha Lieke, a senior buyer for Diversa in San Diego, has been buying used equipment for the pharmaceutical company since the beginning. Joining Diversa nearly a decade ago, Lieke had to work with the restricted budget of a startup. "Like any small company, we struggled," she recalls. "You had to look at the budget and figure out which types of equipment best match what we need with the available funds."
Cosmetics hardly factor into the purchasing decision, Lieke says. "Are you purchasing the look or function? It doesn't matter if the cosmetic damage doesn't damage the function." Buying used equipment helps Lieke stretch her budget dramatically. For example, she recently saved nearly 60% by purchasing a used centrifuge for $18,000, when the cost of a comparable, but new, item would have been $45,000.
Getting the biggest bang for every scarce buck is also important to Scot Gudger, who oversees equipment purchases, among other responsibilities, as administrator for the department of molecular and medical genetics at Oregon Health Sciences University in Portland. "In my department, buying used equipment allows dollars to go farther," says Gudger, who chairs a committee within the National Council of University Research Administrators. His department saved more than 75% when a researcher purchased a used refrigerated centrifuge for $2,250; a comparable new item costs around $10,000.
Such savings are more important than ever, as federal spending on biomedical research has slowed. President George W. Bush's 2006 budget proposal increases NIH funding by less than 1%, providing resources for 38,746 projects (402 fewer than in fiscal year 2005).1 Yet grant submissions are on the rise, according to Carol Alderson, acting director for the division of grants policy in the NIH office of policy for extramural research administration. The Institute received 64,000 applications in 2003 and 73,500 last year, and it anticipates 80,000 in 2005.
Researchers in academia have had to consider finances more seriously and to more closely scrutinize their purchasing habits, Gudger says. Choosing to purchase used equipment is a serious decision for scientists, as "their lives are based on the success of experiments," which depend on the integrity of the lab's equipment, he says.
Whether in academia or industry, those who have purchased used equipment say they're largely satisfied with the items they've acquired. "Our experience with LabTrader has been outstanding," says Victoria Hampton, a research associate who studies feline immunodeficiency virus at the veterinary college of Western University of Health Sciences in Pomona, Calif. "Now we have more money for enzymes, chemicals, reagents, and kits that cost a lot. We probably wouldn't be able to go for the latest breaking techniques that are more expensive."
Hampton does tissue culture in a refurbished hood she purchased from LabTrader, and she has purchased a freezer, icemaker, and a pump to run the vacuum system on the hood. She also purchased a new -80° freezer for $8,500 before discovering she could have purchased a used model for just $4,500 at LabTrader. "It makes a big difference," she says. Smock also has had positive experiences. His facility has purchased several random access chemistry analyzers from Act Diagnostics in Oceanside, Calif., paying about $32,000 each. Used equipment often already has the "bugs" ironed out, he says, so he actually prefers used equipment to new in some cases. "I haven't had any problems with the equipment."
In addition to saving money, Hampton says she likes dealing exclusively with LabTrader rather than with several different manufacturers or vendors. "It's like buying a car: It's a lot less comfortable," she says, explaining the value of doing business with one dealer, such as LabTrader, with whom she can build a trusting relationship.
AVOID THE PITFALLS
Ensuring the possibility of forming such a bond with the dealer is a crucial step before making a purchase. "It's buyer beware," says Ken Piech, general manager of LabX, an online auction site for lab equipment where both dealers and individuals can buy and sell or post ads for equipment they need. "It's not different from purchasing a car or from a classified ad in the newspaper."
While LabX has a rating system for sellers, much like eBay's feedback score, potential buyers can also do their own detective work to investigate a seller's background. "You really need to know the supplier," Lieke says. "I've made mistakes and ended up not getting what we thought we were getting."
One measure of dependability is how long the dealer has been around, says Vance Moore, president of Best Lab Deals. "A lot of companies fall by the wayside because they don't back up their merchandise." Also, reputable dealers will offer a warranty of their own or one extended from the manufacturer. "My policy is that if I can't provide a warranty, then I have no business selling it to you," Gaston says.
Warranties usually last from 30 to 90 days and may include ongoing phone support, maintenance, or servicing. If you're geographically located within driving distance of the dealer, you may consider purchasing a yearly service contract. Or, you may want to contract with an after-purchase service company in your area.
Another way to assess equipment quality is to speak to the technician that actually refurbished the item, says Barbara Pearlman, founder of Cambridge Scientific Products. "Then you can be sure of what you're getting," she says, pointing out that reputable dealers will employ technicians with specialized knowledge and experience. She also suggests asking for the serial number on the equipment and taking the number to the manufacturer to research the history of the specific item and provide general information about the make and model.
Such detailed information may be harder to come by from a seller on eBay, says Civitate. "You might be buying from someone who has never plugged it in," he says. "It's not the same as buying from a reputable used equipment company."
Lieke is pleased with her eBay experience and says she was able to secure good prices for the few pieces of lower-end equipment she has purchased. But, "it took longer to wait for the bid to close," she says. "For 50 more dollars, I could get the equipment right away from LabTrader."
Actually inspecting the equipment in-person, as Lieke recommends for higher-end purchases, is less feasible with online auctions such as eBay. Many established companies welcome customer visits. For those who can't, dealers can provide detailed photos. Best Lab Deals sets up an appointment with customers and uses a Web cam for a real-time display of the components and features and demonstration of the equipment in action.
Lieke also stresses the importance of knowing exactly what you need and communicating those specifications to the dealer. Most of the inventory is usually posted on the dealer's Web site. If you don't find what you're looking for, some dealers will put the item on your wish list until they locate one.
Yet no matter how thorough you are before purchasing, used equipment sometime still fails. Oregon's Gudger says his department's cell freezer and a -80° freezer, both of which were purchased used, broke down when the compressors gave out after the warranty had expired. Even though the dealer was respectable, he says that "buying used without checking on the history" was risky. "It failed quicker than we expected, but later [we] learned that the failure was within normal limits," says Gudger, explaining that the experience taught him that certain types of equipment, such as a refrigerator, are worth the cost of a new one.
"The contents of the refrigerator can be worth many times over the refrigeration expense, so failure can be devastating," Gudger continues. "Unfortunately, there are not limitless resources. And when you need a new instrument to gain funding, buying items like a refrigerator is not usually a priority, and one looks for ways to stretch the available funds."
Lieke also knows such frustration. She spent $60,000 on a device used in fermenting, which ultimately was different from what the dealer (which she declined to name) described. The dealer refused to refund the purchase. "We had to dump the whole thing," she said. "If you can't see it running before you buy it, make sure there's an out-clause in the deal so the dealer has to stand behind their equipment."
Short of kicking the tires and checking under the hood, the mark of a reliable dealer is one that stands by its products. "The goal is to have them come back for more," says Cambridge's Pearlman, explaining her commitment to keeping her customers happy.
For veterinary researcher Hampton, such dedication gave her the confidence to give refurbished equipment a chance. "LabTrader made a very good impression that they wouldn't let anything out the door that wasn't operational," she says "There's no reason to buy it new."
Interested in reading more?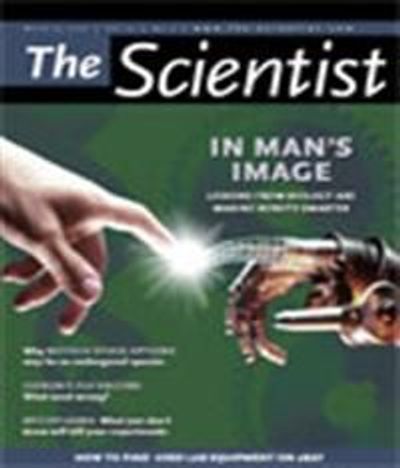 Become a Member of
Receive full access to digital editions of The Scientist, as well as TS Digest, feature stories, more than 35 years of archives, and much more!