EDITOR'S CHOICE IN CELL & MOLECULAR BIOLOGY
The paper
G.P. Holloway et al., "Age-associated impairments in mitochondrial ADP sensitivity contribute to redox stress in senescent human skeletal muscle," Cell Rep, 22:2837–48, 2018.
TOO MUCH OF A GOOD THING
The electron transport chain within mitochondria helps produce energy in the form of ATP through redox reactions, generating reactive oxygen species (ROS) in the process. In rodents, rising levels of ROS have been linked to aging in mice, Graham Holloway of the University of Guelph in Canada notes. In a recent study, his team used biopsies from a quadriceps muscle to test whether the association held up in humans.
LATERAL THINKING
The researchers grew human muscle fibers from biopsies in culture in the presence of varying amounts of the ATP precursor ADP and measured the amounts of oxygen used up and hydrogen peroxide (an ROS) released in...
GROWING OLD
In healthy young adults, optimally functioning ADP ferries electrons quickly through the final step of cellular respiration, meaning fewer electrons can slip away to form ROS. Holloway's group recorded higher amounts of hydrogen peroxide in the muscle fibers from older people (age ~70) at lower levels of ADP, indicating that the fibers had become less sensitive to the molecule. "The paper has systematically shown how mitochondrial function and bioenergetics is greatly affected during aging," writes Jin Han, who studies energy metabolism at Inje University in South Korea but was not involved in this study, in an email to The Scientist.
LITTLE HELP
When Holloway and his colleagues tried the same experiment in biopsies from older individuals undergoing resistance training at the gym, the muscle fibers were in better health—stronger, leaner, and more sensitive to ADP. But the skewed levels of peroxide emission remained unchanged.
Interested in reading more?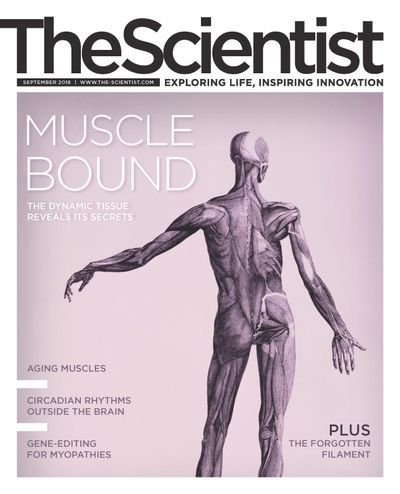 Become a Member of
Receive full access to digital editions of The Scientist, as well as TS Digest, feature stories, more than 35 years of archives, and much more!