EDITOR'S CHOICE IN NEUROSCIENCE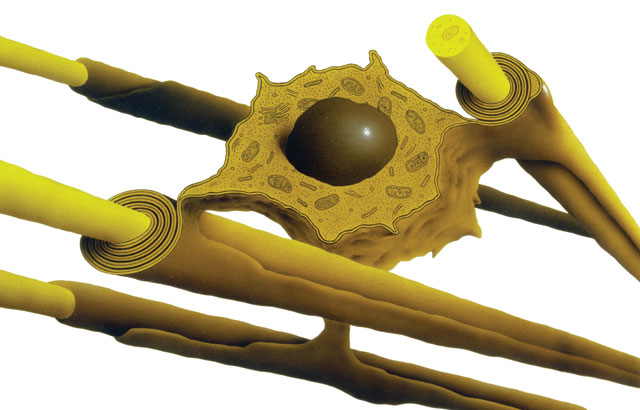 LAYING INSULATION: An oligodendrocyte myelinates neuronal axons in the central nervous system by extending a spiral of cytoplasmic membrane that comprises the myelin sheath.© FRANCIS LEROY, BIOCOSMOS/SCIENCE SOURCE
The paper
K.M. Young et al., "Oligodendrocyte dynamics in the healthy adult CNS: evidence for myelin remodeling," Neuron, 77:873-85, 2013.

The problem
Oligodendrocytes (OLs) produce the myelin sheaths that electrically insulate axons. Although most OLs are generated in the early postnatal period, oligodendrocyte progenitors (OPs) generate mature OLs well into adulthood. The function of these adult-generated OLs is unclear, however—are they myelinating the remaining naked axons, or remodeling existing myelin?

The finding
William Richardson of University College London and colleagues labelled OPs and their OL progeny in the adult mouse brain. If new OLs myelinate naked axons, one would expect to see few new OLs in the mature optic nerve, where 99 percent of axons are...
Interested in reading more?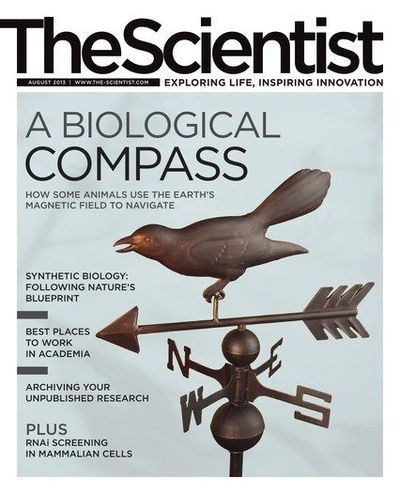 Become a Member of
Receive full access to digital editions of The Scientist, as well as TS Digest, feature stories, more than 35 years of archives, and much more!