EPIGENETIC ACTIVATION: A single base-pair mutation (lower allele) leads to epigenetic changes that promote expression of a telomerase gene.COURTESY OF JOSH STERN
EDITOR'S CHOICE IN GENETICS & GENOMICS
The paper
J.L. Stern et al., "Mutation of the TERT promoter, switch to active chromatin, and monoallelic TERT expression in multiple cancers," Genes Dev, doi:10.1101/gad.269498, 2015.

The foundation
Chromosome ends are slightly shortened with each DNA replication. Terminal repetitive sequences called telomeres buffer coding DNA from this fate. In stem cells, telomerase extends the telomeres so that cell division can continue, perhaps indefinitely. In somatic cells, telomerase is inactive in part because the gene encoding telomerase's catalytic sub­unit, telomerase reverse transcriptase (TERT), is epigenetically silenced. In most cancers, however, telomerase is again turned on and aids proliferation.

The mutations
In 2013, researchers found two mutations in the TERT promoter that occur frequently in cancer cell lines and are tied with...
"It's very nice biochemical work to show that a single-base-pair mutation in the cancer genome activates the expression of the telomerase gene," says Dana-Farber Cancer Institute's Franklin Huang.

Application
"Telomerase is a fantastic therapeutic target for cancers because so many cancers are absolutely reliant on telomerase," says Stern. "These TERT promoter mutations only occur in cancer, so if we can understand the mechanism, then we can potentially develop a highly specific cancer therapeutic."
Interested in reading more?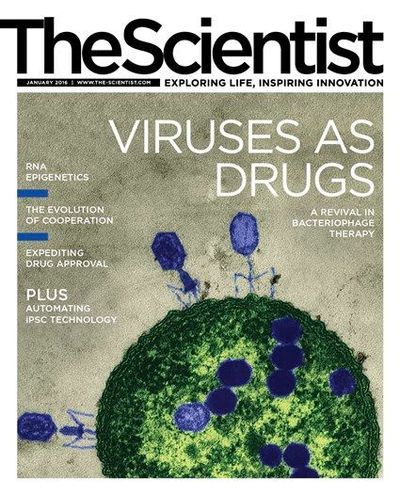 Become a Member of
Receive full access to digital editions of The Scientist, as well as TS Digest, feature stories, more than 35 years of archives, and much more!