Bio-Rad Introduces Anti-Daratumumab Antibodies
Bio-Rad Laboratories, Inc. (NYSE: BIO and BIOb), a global leader of life science research and clinical diagnostic products, today announced the launch of a range of anti-daratumumab antibodies that are specific for daratumumab (Darzalex) and inhibit the binding of the drug to its target, CD38. These highly specific and high-affinity recombinant antibodies are suitable for bioanalysis and drug monitoring of daratumumab and its biosimilars.
Daratumumab is an anticancer drug that binds to the CD38 protein overexpressed in multiple myeloma cells, leading to immune-mediated apoptosis of the tumor cell. The new range of anti-daratumumab antibodies comprises three fully human IgG1 inhibitory antibodies with varying levels of affinity. The antibodies are ideal for use as surrogate positive controls in anti-drug antibody assays, and for the development of pharmacokinetic bridging ELISAs to measure free drug. Bio-Rad offers a portfolio of recombinant, monoclonal, nonanimal-derived anti-idiotypic antibodies and drug–target complex binders for the development of highly selective and sensitive assays. These critical reagents enable researchers to develop robust methods in a short timescale and produce translatable and reproducible results. The antibodies are generated using the Human Combinatorial Antibody Libraries (HuCAL®) and CysDisplay®, a proprietary method of phage display, along with guided selection methods to obtain highly targeted reagents We are pleased to continue the expansion of our range of anti-idiotypic antibodies to support researchers developing novel treatments"; said Amanda Turner, Bio-Rad Product Manager, Life Science Group. Our recombinant production methods result in batch-to-batch consistency, so res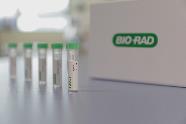 earchers can rely on our antibodies to deliver reproducible results over the lifecycle of their bioanalytical assays" she said. The anti-daratumumab antibodies are approved for in vitro research purposes and for commercial applications providing in vitro testing services to support preclinical and clinical drug development. For more information about Bio-Rad's anti-daratumumab antibodies, please visit https://www.bio-rad-antibodies.com/anti-daratumumab-antibody-darzalex.html
About Bio-Rad
Bio-Rad Laboratories, Inc. (NYSE: BIO and BIOb) is a global leader in developing, manufacturing, and marketing a broad range of innovative products for the life science research and clinical diagnostic markets. With a focus on quality and customer service for 70 years, our products advance the discovery process and improve healthcare. Our customers are university and research institutions, hospitals, public health and commercial laboratories, and biotechnology and pharmaceutical companies, as well as applied laboratories that include food safety and environmental quality. Founded in 1952, Bio-Rad is based in Hercules, California, and has a global network of operations with more than 7,800 employees worldwide. Bio-Rad had revenues exceeding $2.5 billion in 2020.