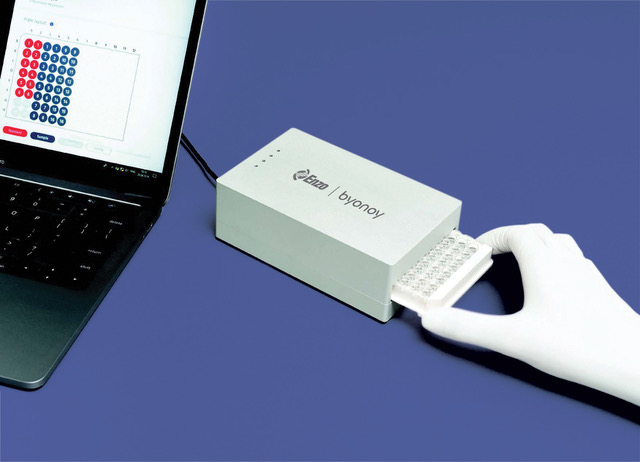 Enzo Biochem, Inc. (NYSE:ENZ), a leading biosciences and diagnostics company, announced today the commercial launch of a small portable microplate reader for use with the company's immunoassays and, ultimately, molecular diagnostics, providing new opportunities in point-of-care medicine. This affordable device enables Enzo to offer a complete solution to academic, CRO, and industrial customers.
Enzo is the provider of over 17,000 ELISA (enzyme-linked immunosorbent assay) and assay kits, including hundreds of highly sensitive ELISAs it manufactures. The advanced design and technology of Enzo's compact microplate reader makes it possible to deliver precise and accurate results. Together with Enzo's proprietary software, the device is an option for a wide variety of applications based on the miniaturization of Enzo's assays. These tests include metabolites, hormones (e.g. pregnancy), proteins (e.g. inflammatory cytokines) and protein characterization.
With support from an instrument manufacturing company, the Enzo portable reader enables lab work to be executed outside of...
The compact solid-state technology enables utilization of this instrument in new locations. With this technology, point-of-care testing can move from centralized, complex clinical labs closer to patient care. It simplifies testing procedures and opens up the opportunity to shift testing out of the hands of licensed medical technicians to healthcare professionals operating nearer to patients or, in some instances, even to patients themselves.
"Access to point-of-care testing continues to grow as technological advances in clinical diagnostic testing drive miniaturization of complex devices. Now, just as computers moved from mainframes to powerful, portable handheld devices, the same is happening within the clinical diagnostic testing industry. This reduced complexity provides high quality and precise testing capabilities to be available to a broader range of healthcare professionals involved in patient management whether they are sitting at an urgent care facility, a doctor's office or hospital bedside," said Kara Cannon, Chief Commercial Officer of Enzo.
"The point-of-care testing market, currently valued at over $18B globally, has the potential to aggressively expand to many testing needs that are now not widely available at point-of-care, including a significant portion of the $15B immunoassay testing market," added Ms. Cannon. "Common clinical immunoassay tests, such as vitamin D testing and inflammation analysis, currently are performed regularly in the clinical central testing lab by licensed medical technologists using large, complex instrumentation. Unlike lateral flow assays, this small yet powerful system does not sacrifice sensitivity for convenience and allows for multi-assay capabilities."
"Enzo's corporate vision addresses new opportunities for expansion and growth within both products and services," added Ms. Cannon. "We are serving markets including laboratories, point-of-care, and direct-to-consumer. This market launch is an important step in extending our offerings beyond the central laboratory, enabling physicians to provide clinical testing at their office, urgent care facility, or other treatment center."
In the future, Enzo anticipates launching isothermal testing on this platform, enabling constant temperature and eliminating the need for a thermal cycle.
Interested in reading more?
The Scientist ARCHIVES
Become a Member of
Receive full access to more than 35 years of archives, as well as TS Digest, digital editions of The Scientist, feature stories, and much more!