Lonza and NNIT to Host Free Webinar on MES for the Future – Achieving Pharma 4.0 through Accelerated MES Implementation
Discover how implementation of next-generation Manufacturing Execution Systems (MES) can be optimized and streamlined to pave the way to faster pharma digitalization.
Lonza Bioscience Informatics and NNIT will host a free 60-minute webinar to discuss the key requirements of next generation Manufacturing Execution Systems (MES) and how small- and medium-sized companies can overcome critical implementation challenges for accelerated pharma digitalization. Webinar attendees will also have the chance to engage with the expert presenters in a live Q&A session following the webinar.
As di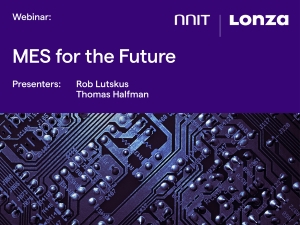 gital transformation of pharmaceutical manufacturing becomes critical for companies to ensure compliance and remain competitive, the requirement for a more agile and accelerated approach to implementation of MES is becoming clear. However, MES implementation projects have traditionally been viewed as complex, time and resource intensive, and inaccessible to smaller organizations. In the case of cell and gene therapy (CGT) manufacturing, available systems often need extensive customization to accommodate inherent workflow complexities, further complicating deployment.

Lonza has extensive first-hand experience of the challenges facing organizations that have their sights on achieving pharma 4.0. NNIT has more than 15 years of experience in digital transformation for the pharmaceutical manufacturing and supply chain space, developing the renowned NNIT Accelerated Implementation Methodology for expedited MES deployment. In March 2021, the two companies partnered in a bid to overcome the time-consuming and costly nature of MES implementation across the industry.


During the webinar titled "MES for the Future," Robert Lutskus, Director of Commercial Operations at Lonza Bioscience Informatics, and Thomas Halfmann, Global Head of Production & Laboratory at NNIT, will delve into:
Critical industry MES accessibility challenges for small-to-midsized companies and new modalities such as cell therapy
How to accelerate MES implementation to help companies more rapidly achieve their digitalization vision
The different approaches needed to support the effective digitalization of Quality and Manufacturing processes
NNIT's Accelerated Implementation Methodology
The key requirements for a next-generation MES

You can find more information about the webinar on the registration pages for the Europe & APAC session and the Americas & Europe session.

Webinar: MES for the Future:
Speakers:
Robert Lutskus, Director Commercial Operations, Lonza Bioscience Informatics
Thomas Halfmann, Global Head Production & Laboratory, NNIT

Moderator:
Sinéad Cowman, Global Business Development & Marketing Manager, Lonza Bioscience Informatics
Tuesday, 25 January 2022:
Session 1 (Europe & APAC):
9 AM CET (Berlin)
13.30 PM IST (New Delhi)
4 PM CST (Beijing)
4 PM SGT (Singapore)
5 PM JST (Tokyo)
7 PM AEST (Sydney)
Session 2 (Americas & Europe):
11 AM EDT (New York)
8 AM PDT (Los Angeles)
4 PM GMT (London)
5 PM CET (Berlin)
Find further information about Lonza's MES expertise and offerings, and more information about the NNIT Accelerated Implementation Methodology.

Lonza runs an extensive webinar program sharing expert know-how, useful tips and the latest news from users as well as from Lonza's R&D and Scientific Support Teams. For More information about upcoming and on-demand webinars please visit our webinar page.

About Lonza
Lonza is the preferred global partner to the pharmaceutical, biotech and nutrition markets. We work to enable a healthier world by supporting our customers to deliver new and innovative medicines that help treat a wide range of diseases. We achieve this by combining technological insight with world-class manufacturing, scientific expertise and process excellence. Our unparalleled breadth of offerings enables our customers to commercialize their discoveries and innovations in the healthcare sector.

Founded in 1897 in the Swiss Alps, today, Lonza operates across five continents. With approximately 15,000 employees, we comprise high-performing teams and individual talent that make a meaningful difference to our own business, as well as to the communities in which we operate. The company generated sales of CHF 2.5 billion with a CORE EBITDA of CHF 847 million in H1 2021. Find out more at www.lonza.com
About NNIT
The NNIT Group provides a wide range of IT and consulting services to the global life sciences industry and has been a trusted partner to life sciences companies for more than 25 years. Our 1,400+ colleagues in our NNIT Life Sciences unit work with top tier customers all over Europe, Asia and the US. Our headquarters are based in the international hubs of the pharmaceutical industry, from where they provide end-to-end IT consultancy services across the entire value chain.

In NNIT, we perceive ourselves not only as service providers and advisors. We are project managers, scientists, engineers, digital and data experts. We work in lab environments, clinical operations, regulatory affairs, manufacturing, supply chain and on system validation across the value chain. It is in this diverse mix, we bring people and technology together, create and deliver ideas to serve our life sciences customers in solution areas such as development, implementation, validation and operation of IT. All our solutions are based on industry best practices and can be integrated with the existing IT landscape and are fully compliant with the demands of the FDA, EMA and other regulators. Read more about NNIT Life Sciences here.