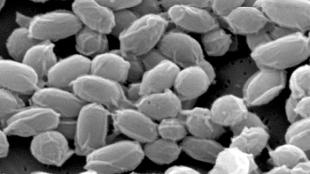 Anthrax sporesWIKIMEDIA, CDCThe US Department of Defense has announced that an Army facility in Utah mistakenly shipped live anthrax samples to labs in nine states and one overseas military base. The anthrax spores were supposed to be inactivated by radiation before shipping, but upon arriving at their destinations, they were determined to be live. Although a commercial shipping company transported the samples, the Pentagon and the Centers for Disease Control and Prevention (CDC), which is currently investigating the incident, have both said that the public was not likely exposed to the dangerous pathogen. "At this time we do not suspect any risk to the general public," CDC spokesperson Kathy Harben told the Associated Press.
But the Pentagon did say that some people at a US Air Force Base in South Korea may have been exposed to anthrax. "Twenty-two personnel may have been exposed during the training event,...
The live anthrax spores were shipped to government and commercial labs in nine US states from Dugway Proving Ground in Utah. The sample from which the spores were taken was used for training purposes. The US Army Chief of Staff General Raymond Odierno told reporters during a press conference that personnel at Dugway followed all the procedures prescribed to inactivate the anthrax before shipping. "The best I can tell there was not human error," Odierno said, according to Reuters. Reuters also reported that four US civilians have started taking post-exposure prophylaxis, which typically includes the anthrax vaccine and/or antibiotics.
The latest mishaps comes on the heels of similar incidents on the federal level. Last year, dozens of CDC researchers in Atlanta were exposed to anthrax when the microbes were sent to laboratories that were not equipped to safely handle the pathogen.
Interested in reading more?
The Scientist ARCHIVES
Become a Member of
Receive full access to more than 35 years of archives, as well as TS Digest, digital editions of The Scientist, feature stories, and much more!