Wikimedia, CephasCommon nesting birds are a convenient way to monitor pollution and assess the success of environmental clean-up efforts, according to research presented last week (November 15) at the annual meeting of the Society of Environmental Toxicology and Chemistry in Long Beach, California.
Thomas Custer of the US Geological Survey's Upper Midwest Environmental Sciences Center in La Crosse, Wisconsin, told conference goers that because some birds eat insects that hatch in the sediments at the bottom of rivers and lakes, any contamination in the sediment will show up in the birds and their offspring.
Custer gave the example of a study using tree swallows (Tachycineta bicolor) as indicators. The swallows' eggs and chicks contained significant quantities of toxic chemicals called polychlorinated biphenyls (PCBs) 7 years after clean-up had begun at a defunct capacitor manufacturing plant in southern Illinois. The findings resulted in further remediation work at the...
The swallows are perfect for the task, he said, because they tend to forage no more than 500 meters away from their nesting site, so they reveal only local contamination. They are also very easy to attract to live in a new area with nesting boxes, so they can easily be transplanted to different sites that need monitoring.
And swallows are not the only birds used for biomonitering, Nature reported. Richard Holbrook, a wildlife toxicologist at the University of Southern Illinois in Carbondale, uses homing pigeons—a favorite bird of hobbyists around the world—to monitor air quality in the cities where they live.
Looking at pigeons in China, the Philippines, and the United States, Holbrook observed that birds from polluted cities had far less healthy organs. Furthermore, the lungs and livers of birds from Beijing contained 4 times more polycyclic hydrocarbons, a well-known by-product of fossil fuel burning, than those from less polluted cities. Humans may suffer the same effects, Holbrook told Nature.
Interested in reading more?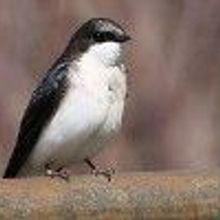 The Scientist ARCHIVES
Become a Member of
Receive full access to more than 35 years of archives, as well as TS Digest, digital editions of The Scientist, feature stories, and much more!