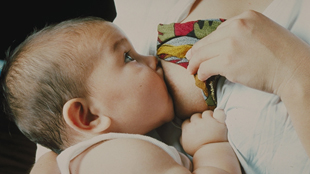 WIKIMEDIA COMMONS, ELLYWA
The Academy of Breastfeeding Medicine, an independent organization of physicians that promote breastfeeding, has issued a statement criticizing Time Magazine for its provocative cover photograph depicting a 26-year-old mother breastfeeding her 3-year-old son. The cover has triggered "widespread and damaging misinformation about biological norms for breastfeeding," according to the statement.
All major medical organizations recommend at least 6 months of exclusive breastfeeding and many encourage breastfeeding beyond infancy, said the ABM. Additionally, there is no scientific basis to claims that breastfeeding beyond infancy is harmful to mother or infant. Yet many readers reacted to the Time cover with disgust at the idea of a breastfeeding 3-year-old: the Atlantic Wire called the image "PG-13," and The Right Scoop went so far as to call it "soft porn."
The cover, and the subsequent reaction it sparked from the general public, is "a terrible disservice to...
"Ideally, Time Magazine should have featured a photograph of breastfeeding that would have supported the concept of breastfeeding as both the cultural and biological norm," ABM president Arthur Eidelman said in a statement. "However, by using a staged, provocative picture of an atypical situation, Time chose to generate controversy for commercial ends at the potential expense of well-accepted public health recommendations."
Interested in reading more?
Become a Member of
Receive full access to more than 35 years of archives, as well as TS Digest, digital editions of The Scientist, feature stories, and much more!