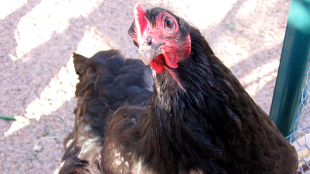 WIKIMEDIA, ANONYMOUS COWNewcastle disease is bad news for chickens and other domestic and wild birds, and the virus that causes it is a major enemy of the poultry industry. But new research suggests the virus may become an effective treatment for prostate cancer.
Scientists have noted the anti-cancer properties of Newcastle disease virus, which is not a health concern for humans, since the 1950s. Now, virologist Elankumaran Subbiah at the Virginia-Maryland Regional College of Veterinary Medicine and colleagues have used genetic engineering to fine-tune those properties. "We modified the virus so that it replicates only in the presence of an active prostate-specific antigen and, therefore, is highly specific to prostate cancer," Subbiah told Virginia Tech News. "The recombinant virus efficiently and specifically killed prostate cancer cells, while sparing normal human cells in the laboratory, but it would take time for this to move from the discovery phase to...
Hormone treatment and chemotherapy, which are typically used to target prostate cancer, come with adverse side effects that the viral treatment could avoid.
Subbiah and his collaborators published their results in the April issue of the Journal of Virology. They say that they are ready to take the modified virus into pre-clinical and clinical trials and are awaiting commercial interest.
Interested in reading more?
The Scientist ARCHIVES
Become a Member of
Receive full access to more than 35 years of archives, as well as TS Digest, digital editions of The Scientist, feature stories, and much more!