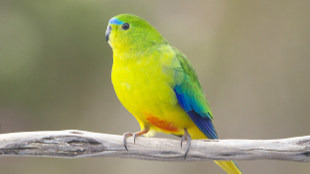 The orange-bellied parrot (Neophema chrysogaster) is critically endangered. Wikimedia Commons,, JJ HarrisonWe can now put a price on nature. Protecting the world's most endangered species from extinction and conserving their habitats will cost $76.1 billion per year, according to estimates published today (October 11) in Science. Though the figure may seem daunting, researchers say it's a small price to pay for biodiversity.
This amount is "a fraction of what we as consumers spend on soft drinks each year, which is almost half a trillion dollars," Donal McCarthy, an environmental economist at BirdLife International in Cambridge, UK, and co-author of the study, told BBC News. "The total required for species and sites is less than half of what is paid out in bonuses to bankers on Wall Street's biggest investment banks."
Moreover, such costs are a fraction of the value of the "ecosystem services" provided by nature,...
At a 2010 meeting of the Convention on Biological Diversity in Nagoya, Japan, international governments re-committed themselves to meeting 20 conservation targets, including the improvement of efforts to protect at-risk species and their habitats. To work out how much that might cost, researchers consulted experts about previous spending and hypothetical costs for improving the at-risk status by one category of a sample of 211 high-priority bird species on the Red List of the International Union for the Conservation of Nature. They then extrapolated from those numbers to estimate the cost of "downlisting" 1,115 vulnerable bird species—between $875 million and $1.23 billion each year—as well as other similarly threatened animals—between $3.41 billion and $4.76 billion. Based on known land prices and management expenses, the team also came up with prices for conserving important habitats, bringing the estimated annual total to $76.1 billion.
"For the first time we have an estimate of how much these targets will cost," Henrique Pereira, who works on international conservation at the University of Lisbon in Portugal and was not involved in the study, told Nature. "For any negotiations that occur over the next few years [to develop conservation strategies], these numbers can be used as a reference."
Interested in reading more?
The Scientist ARCHIVES
Become a Member of
Receive full access to more than 35 years of archives, as well as TS Digest, digital editions of The Scientist, feature stories, and much more!