WIKIMEDIA, MIKE MURPHYCertain blood cells can form neurons in adult freshwater crayfish, according to a study published this week (August 11) in Developmental Cell.
The invertebrate crustaceans lack oxygen-carrying red blood cells or lymphoid cells; instead, the crayfish innate immune system relies on hemocytes. Jeanne Benton of Wellesley College and her colleagues labeled hemocyte DNA in two species, Procambarus clarkii and Pacifastacus leniusculus with EdU, a modified deoxyuridine base. Seven weeks later, they found these labeled hemocytes in brain clusters where adult-born neurons differentiate. The cells also expressed appropriate neurotransmitters. Benton's team found that the number of cells within this neurogenic niche could be increased or decreased by altering the crustaceans' total hemocyte count.
Although previous studies have shown that crayfish brains replenish adult neurons, the origins of nerve cell precursors were unknown. These results suggest the "immune system is a key contributor to adult neurogenesis," the...
The results support the possibility of trans-differentiation, in which cells from derived from one embryonic germ layer contribute to tissues that originated from a different layer. Understanding the mechanisms at play could help researchers reprogram human cells to treat neurodegenerative disorders, the authors told New Scientist.
"This could be another example of nature finding a way of doing something that we have to do by laboratory manipulations," regenerative medicine researcher Charles ffrench-Constant of the University of Edinburgh, told New Scientist. "If one could identify the mechanism, it might point us in the direction of new, better therapies."
Interested in reading more?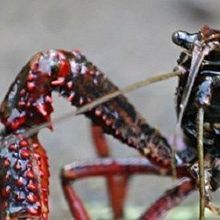 The Scientist ARCHIVES
Become a Member of
Receive full access to more than 35 years of archives, as well as TS Digest, digital editions of The Scientist, feature stories, and much more!