Deciding to Ditch Latin
A report details how the International Botanical Congress agreed in favor of electronic-only publication and naming new species using English.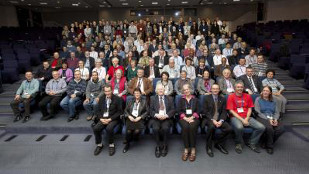 Nomenclature Section of the XVIII International Botanical Congress, Melbourne, Australia, July 2011IBC2011, MICHAEL SILVER/PHOTONETThree summers ago, the International Botanical Congress met in Melbourne, Australia, to discuss, among other things, the future of plant nomenclature. After 10 sessions, the group decided that new species of plants, fungi, and algae could be published electronically only and named using English. In a report published last week (April 29) in PhytoKeys, Christina Flann from Wageningen University in the Netherlands, Nicholas Turland of the Botanic Garden and Botanic Museum Berlin-Dahlem, Germany, and Anna Monro of the Centre for Australian National Biodiversity Research in Canberra described the weeklong deliberations that went into this decision.
Delegate Peter Wilson of Australia told the group he "believed that English now occupied a place in scientific communication that Latin occupied in Linnaeus's day," according to the authors.
"Permitting electronic-only publication was arguably the most important decision made...
Interested in reading more?
The Scientist ARCHIVES
Become a Member of
Receive full access to more than 35 years of archives, as well as TS Digest, digital editions of The Scientist, feature stories, and much more!