Dengue-infected tissueCDC; Frederick Murphy, Cynthia Goldsmith
Scientists at Florida Gulf Coast University and their colleagues have found that human cells were more likely to be infected with Zika virus in vitro if they contained antibodies to dengue virus. Their findings, detailed Monday (April 25) in a bioRxiv preprint, could help explain why Zika infection appears to be more severe in areas where dengue is endemic, and points to a potential unintended effect of dengue vaccination.
Antibodies to dengue can increase the virus's infectivity for certain types of immune cells through a process called antibody-dependent enhancement (ADE), resulting in the production of more virus and more severe illness. (See "Antibody-Dependent Enhanced (ADE) Immunity," The Scientist, May 2013.) For the present study, the researchers cultured cells with immune proteins called Fc receptors and exposed them to Zika virus in the presence of human monoclonal antibodies to dengue,...
The researchers also exposed the cells to Zika in the presence of serum from four patients who had recovered from dengue, finding that all four sera enhanced Zika virus infection. Blocking these Fc receptors negated the effect, the team found.
The study measured enhancement of Zika infection by PCR amplification of the infected cells' RNA, rather than measuring the actual amount of virus produced, Vincent Racaniello of Columbia University, who was not involved in the study, wrote on his blog, noting one limitation of their investigation.
The findings, which have yet to be confirmed in vivo, raise concerns about the use of Dengvaxia, a dengue vaccine recently approved for use in Brazil, Mexico, and the Philippines, Racaniello wrote.
Interested in reading more?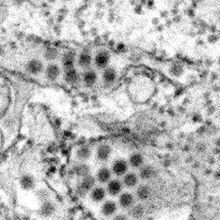 The Scientist ARCHIVES
Become a Member of
Receive full access to more than 35 years of archives, as well as TS Digest, digital editions of The Scientist, feature stories, and much more!