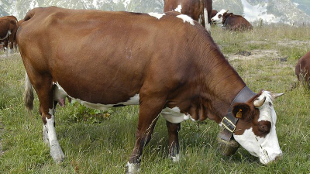 WIKIMEDIA, UTILISATEURThe lateral transfer of genetic information across species is common in bacteria, but rare among vertebrates—or so scientists believed. Now, researchers have demonstrated that a particular DNA sequence has likely jumped several times between the genomes of reptiles, marsupials, and mammals. The study was published this week (31 December) in the Proceedings of the National Academy of Sciences.
BovB is a retrotransposon, a piece of DNA that can copy and paste itself around the genome to create large swathes of repetitive sequences. It is abundant in the cow genome. Researchers have also found it in the DNA of many other animals, including elephants, horses, platypuses, pythons, sea snakes, geckos, sea urchins, and zebrafish.
To better understand how BovB found its way into such a diverse range of creatures, researchers at the University of Adelaide used sequences from these animals to construct a phylogenetic tree. If BovB had been...
Instead, the team found that BovB sequences from cows were more closely related to snakes than elephants, for example. The researchers suggest that the only explanation for such unexpected evolutionary relationships is that BovB has jumped between genomes, and they figured that it must have done so at least 9 times.
Finally, the researchers identified a potential vector. BovB sequences were found in two tick species that suck the blood of lizards and snakes, indicating that parasitic arthropods could be responsible for passing the jumping genes between species.
(Hat tip to Not Exactly Rocket Science)
Interested in reading more?
The Scientist ARCHIVES
Become a Member of
Receive full access to more than 35 years of archives, as well as TS Digest, digital editions of The Scientist, feature stories, and much more!