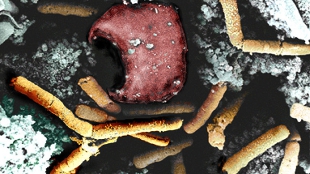 Color-enhanced scanning electron micrograph shows rod-shaped Bacillus anthracis (yellow) and a red blood cell (red) in a monkey's spleen.NIAID, ARTHUR FRIEDLANDERApproximately 75 researchers working at the US Centers for Disease Control and Prevention (CDC) in Atlanta may have been exposed to live anthrax bacteria when the microbes were sent to laboratories that were not equipped to safely handle the pathogen, the federal agency announced Thursday (June 19).
CDC scientists were studying the bacteria in a high-level biosecurity lab and then transferred the samples to three lower-security labs without first properly inactivating the live microbes. Workers in those labs handled the samples without using personal protective equipment, such as gloves. The procedural lapse happened between June 6 and June 13, and CDC spokesperson Thomas Skinner told The New York Times that while none of the researchers exposed to the bacteria are showing symptoms of infection, many of them are...
CNN reported on Thursday afternoon that 54 CDC employees determined to have been in the labs or hallways at the time live anthrax was present have been seen by the agency's Occupational Health Clinic. Of those, only two people chose not to take oral antibiotics. An additional 27 staffers have been given the anthrax vaccine. Other exposed individuals were scheduled to be seen by doctors on Friday.
Paul Meechan, director of the environmental health and safety compliance office at the CDC, told The Guardian that the agency discovered the exposure on the evening of June 13 and is conducting an internal investigation to determine how the lapse occurred. "This should not have happened," he said. "We're taking care of it. We will not let our people be at risk."
"We will report findings of this review and all steps we take to improve lab-safety processes as a result of this incident," the CDC's statement read.
Interested in reading more?
The Scientist ARCHIVES
Become a Member of
Receive full access to more than 35 years of archives, as well as TS Digest, digital editions of The Scientist, feature stories, and much more!