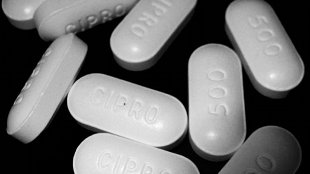 WIKIMEDIA, SHORELANDERSeeking relief from their acute bronchitis and sore throat symptoms, many patients pay visits to their doctors, who often prescribe antibiotics. But not all patients experiencing symptoms of bronchitis and sore throat benefit from the drugs. And according to a study published this week (October 3) in JAMA Internal Medicine, physicians who prescribe antibiotics even when they might not help may be contributing to the growing problem of drug-resistance.
"We know that antibiotic prescribing, particularly to patients who are not likely to benefit from it, increases the prevalence of antibiotic-resistant bacteria, a growing concern both here in the United States and around the world," study coauthor Jeffrey Linder, a physician-researcher at Brigham and Women's Hospital in Boston, said in a statement. Analyzing records from primary-care and emergency-department visits, Linder and his colleague Michael Barnett found that the national prescribing rate for adults with sore throat held...
Public health officials have for years warned about the perils of overprescribing antibiotics. But according to Linder and Barnett's analysis, not much has changed.
As CNN's The Chart blog noted, patients are part of the antibiotic problem, often demanding drugs when they feel sick. "I think there's a discussion that should be happening between patient and doctor that doesn't happen, that automatically leads to an antibiotic prescription," Linder told CNN.
According to MedPage Today, Linder told reporters at the IDWeek meeting being held in San Francisco this week that physicians must push back, citing the rising threat of drug-resistant bacteria. "For individual patients, the compelling reason not to take antibiotics is they're not going to help you and there's a very real chance they're going to hurt you," he said.
Interested in reading more?
The Scientist ARCHIVES
Become a Member of
Receive full access to more than 35 years of archives, as well as TS Digest, digital editions of The Scientist, feature stories, and much more!