Endo to Pay $8 Billion for Par
The deal would create one of the five biggest generic drugmakers in the U.S.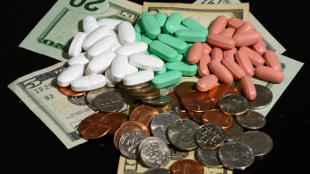 WIKIMEDIA, RAGESOSSIreland-based Endo International announced Monday (May 18) that it has made a deal to purchase Par Pharmaceuticals, a privately-held generic drugmaker headquartered in New York, for $8.05 billion in cash and shares. "This transaction with Par builds upon our generics growth, adding a strong portfolio of high barrier-to-entry and attractive gross margin products while also transforming Endo, creating a powerful corporate platform for future growth and strategic [mergers and acquisitions]," Endo president and CEO Rajiv De Silva said in a statement. If completed, the deal would create a firm that will be ranked in the top five generic drugmakers as measured by US sales.
The move is indicative of the rapid growth experienced in the generic drug space. Endo, which makes the painkiller Percocet in addition to several generic pharmaceuticals and over-the-counter medications, moved to Ireland in early 2014 in a tax-inversion deal in which it also acquired Paladin Labs. The company then gobbled up two other firms before failing to take over Salix Pharmaceuticals when a rival company outbid Endo this March. Separately, Mylan Pharmaceuticals last month staved off a $40 billion takeover bid from rival Teva.
Unlike the Mylan/Teva bid, all parties involved in the Endo/Par deal—including the boards and management teams of each company—have approved the transaction. "This is an exciting time of growth and opportunity in the generics and specialty pharmaceutical arenas," Par CEO Paul Campanelli, who will join Endo's leadership team, said in the statement. "Par Pharmaceutical is committed to significantly expanding our scope, capacity and capabilities to realize the maximum value of our rich and diversified product portfolio and R&D pipeline. We believe our combination with Endo best positions us to do so."