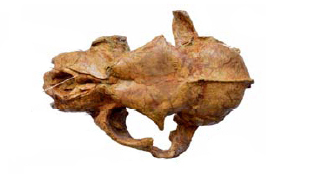 EUREKALERT, TSENG, ET AL.Based on molecular phylogenetic analyses of living species, scientists believed that pantherines—big cats like lions, tigers, and snow leopards—emerged in Asia about 10 million years ago, even though they did not have physical evidence older than 3.6 million-year-old fossils found in Tanzania. Now, Chinese and American paleontologists have uncovered fossils from a newly discovered species of big cat (Panthera blytheae) in the Tibetan Plateau that are between 4 million and 6 million years old. Their work was published today (November 13) in Proceedings of the Royal Society B.
"The study is very important because fossils of big cats are extremely rare," Lars Werdelian of the Swedish Museum of Natural History in Stockholm, who was not involved in the study, told New Scientist. "The new findings lend strong support for the Asian origin of big cats," he added.
The research team, led...
William Murphy, a molecular geneticist at Texas A&M University, told Science NOW that he is skeptical of the link between P. blytheae and snow leopards because the researchers based their conclusions on so few skeletal pieces. "It's possible that this fossil species might have a deeper ancestry in the Panthera tree," Murphy said, but to be sure, scientists need to find more complete fossils.
Interested in reading more?
The Scientist ARCHIVES
Become a Member of
Receive full access to more than 35 years of archives, as well as TS Digest, digital editions of The Scientist, feature stories, and much more!