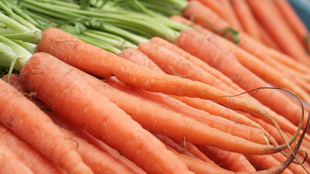 WIKIMEDIA COMMONS, KANDER
This week (May 1), the US Food and Drug Administration approved the first drug for humans produced by a genetically modified plant. Made by Israeli biotech Protalix Biotherapeutics and licensed in the US by Pfizer, Elelyso is an enzyme replacement therapy for Gaucher disease, a rare genetic disorder in which individuals do not produce enough of an enzyme called glucocerebrosidase, resulting in the buildup of fatty materials in the spleen, liver, and other organs.
Pfizer and Protalix had already made Elelyso available to some Gaucher disease patients as part of an early access program after Genzyme, maker of Cerezyme, a glucocerebrosidase-enzyme replacement product produced in hamster cells, experienced manufacturing delays due to contamination in its Massachusetts plant. Now, using genetically modified carrot cells, Pfizer and Protalix officials say they have built up enough inventory of Elelyso to supply patients for at least 24 months and are continuing...
Scientists have been able to genetically modify plants to produce human proteins for 20 years, and there is a US Department of Agriculture approved vaccine for chickens produced in plant cells. But regulatory concerns, such as the risk of allergic reactions due to differences in how plants process proteins, have made it difficult to get approval for a GM plant-derived drug for use in humans.
"This approval demonstrates a proof of concept for the power of this technology to make a large number of proteins," David Aviezer, president and chief executive of Protalix, told Nature. "We are ready to make many more."
To read more about efforts to use plants to manufacture drugs, see our 2010 biobusiness column, "Botanical Biopharming."
Interested in reading more?
The Scientist ARCHIVES
Become a Member of
Receive full access to more than 35 years of archives, as well as TS Digest, digital editions of The Scientist, feature stories, and much more!