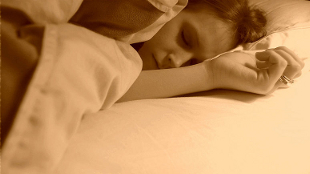 WIKIMEDIA, PEDRO SIMOESEditor's note (August 1, 2014): This paper was retracted after the authors failed to reproduce the results.
People suffering from narcolepsy may be victims of their own immune system, according to a study published this week (December 18) in Science Translational Medicine. Specifically, researchers have found evidence to suggest that the sleep disorder might result from an immune reaction against the wakefulness-regulating hormone hypocretin—possibly one triggered GlaxoSmithKline's Pandemrix flu vaccine that has been linked to an increased risk of developing narcolepsy, or even a case of the flu itself.
The work reveals "the fingerprints of an immune attack," neuroimmunologist Lawrence Steinman of Stanford University in Palo Alto, California, who was not involved in the research, told ScienceNOW.
The results are "exactly what we've been waiting for," added vaccine expert Hanna Nohynek of the National Institute for Health and Welfare in Helsinki, who helped identify...
In 2009, narcolepsy researcher Emmanuel Mignot of Stanford University and colleagues, funded in part by a GSK grant, discovered a curious link between the sleep disorder and immunity: nearly all narcolepsy patients have a particular type of human leukocyte antigen (HLA), molecules that present antigens to T cells to help the immune system distinguish self from non-self. Working in an immune cell line with the narcolepsy-associated HLA, Mignot and his colleagues tested the effects of hypocretin on T cells from either from one of four narcolepsy patients or from their identical twins that didn't suffer from the disorder. For each set of twins, the researchers found that the T cells from the affected individual reacted to pieces of hypocretin that were displayed by the HLAs; T cells from the unaffected twin did not react.
The researchers also tested the T cells of 10 Irish children who had developed the sleep disorder following the administration of the Pandemrix vaccine, along with those from healthy siblings who were also vaccinated and carried the same HLA type. Once again, only the T cells taken from the narcolepsy patients reacted to the hypocretin epitopes.
Mignot's team also tested the effects of the H1N1 virus hemagglutinin protein, which resembles hypocretin epitopes, and found that fragments of the viral protein also elicited an immune reaction. The findings suggest that narcolepsy could result from the immune system reacting to native molecules as a result of their similar structure to pathogenic proteins.
"[This] is the first mechanistic explanation of the disease," vaccine expert Steven Black of Cincinnati Children's Hospital Medical Center in Ohio told ScienceNOW. Of course, he added, "there's plenty of work to do" to fully understand what leads to the onset of narcolepsy.
Interested in reading more?
The Scientist ARCHIVES
Become a Member of
Receive full access to more than 35 years of archives, as well as TS Digest, digital editions of The Scientist, feature stories, and much more!